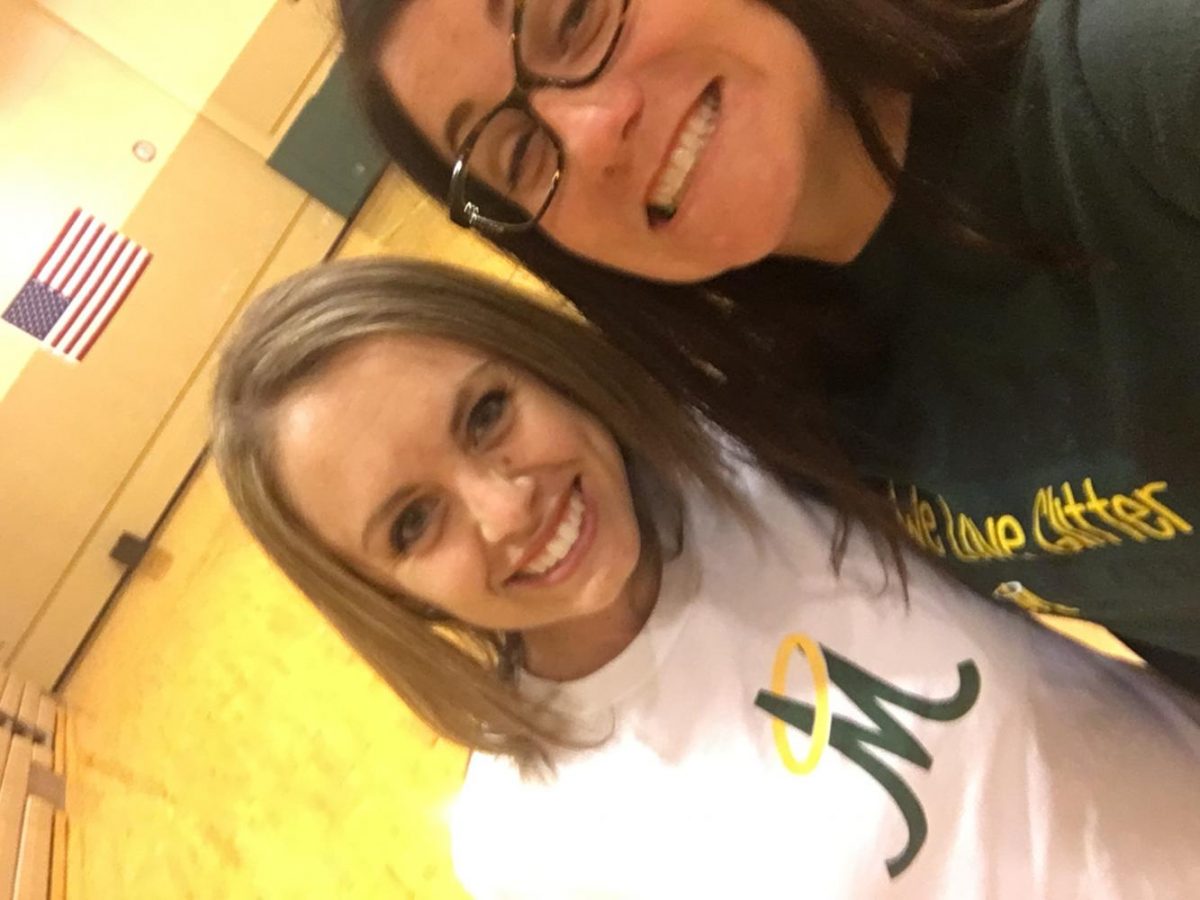 The Manogue family recently added new members to the cheer program, Jessica Bradshaw and Jessica Zeigler, and together they are known as the "Jessicas." The two energetic and dedicated coaches made the transition this year from Reed High school where they were the head cheer coaches for two years, and are beginning their first full season as Miners.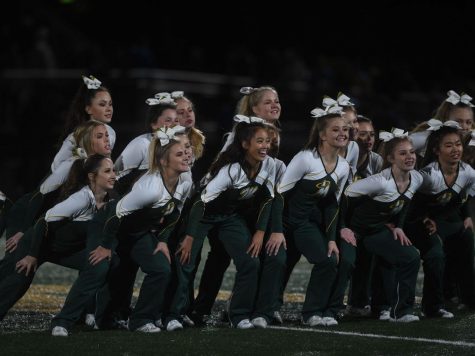 How exactly did these two Jessica's become the Jessicas? Both Bradshaw and Zeigler have prior experience in gymnastics and coaching. For Bradshaw the experience of becoming a mom was a turning point in her coaching perspective. "When I coached right out of high school and college I didn't have anything to relate to as far as being a parent," she explained, "and then I became a mom."
She believes that this experience helped her career as a coach: "Knowing what parents see and how protective they are of their kids showed me how to talk to kids and realize that not every kid learns the same. It took me becoming a mom to really understand that and evolve as a coach."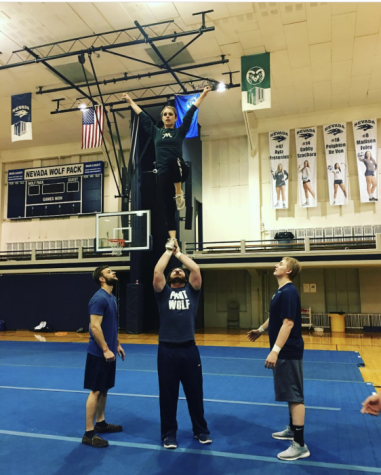 Zeigler has always coached cheer beginning with "coaching my daughter at age five, for three years."  She then moved to "become the cheer director for SYFL [Sierra Youth Football League]" and she has "been doing that for three years."  The Jessicas both have significant experience in coaching cheer, so it is fitting for them to excel as head coaches.
Zeigler recalls that their co-coaching began when, "Jess [Bradshaw] was becoming the head coach at Reed and held mid-season tryouts in fall of 2015. She asked me to be a judge in the tryout, and now we are stuck like glue. It has been two inseparable years. We immediately became the "Jessicas!" Bradshaw added, "We must have been sisters in a past life."
At the beginning the 2016 Manogue basketball season, the Jessicas knew from day one that work needed to be done. Zeigler remembers, "Coming [to Manogue] we didn't know what the cheer program was built on last season. So when we came in we started from ground zero with the fundamentals of sideline cheer." Sideline cheer is what ensures crowd involvement and enthusiasm which is why, as Bradshaw states, "We are focused on basic and strong fundamentals of cheer….[and] we have high expectations for building school spirit and involvement."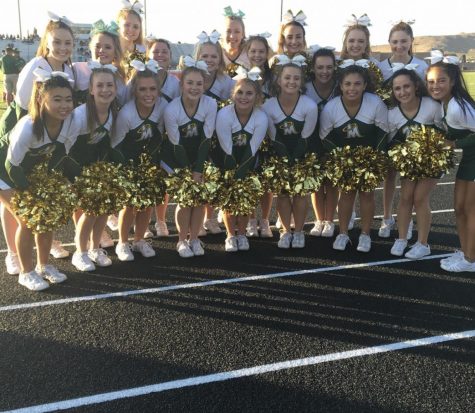 As spirit program directors, the Jessicas emphasize the importance of "a strong coordination between us as the spirit program directors, and the student body. I think once it clicks the student section will just explode." Being one of the few schools that do not know their own fight song, Bradshaw states the team's goal: "We would love to have the students know the fight song and incorporate it into every single assembly." She adds that it needs to be "plastered on the wall of the gym, in the SCC [Student Community Center]" and suggests that "we can go even as far putting a banner on the track."
It is evident, according to Bradshaw, that there has been a strong turn-around in crowd involvement and school spirit, as seen in last Friday night's football game against Reed.  Bradshaw was excited to find that the Manogue student section "took the initiative to learn the fight song  and cheers."  Typically football games have minimal crowd attendance and involvement, but at Friday's game there was a 180-degree change. Students knew the fight song and cheered their hearts out along with the cheer squad. Green and gold faces emerged from the dark stands, as the roars of cheers echoed through the stadium, filling it with nothing but Miner Pride.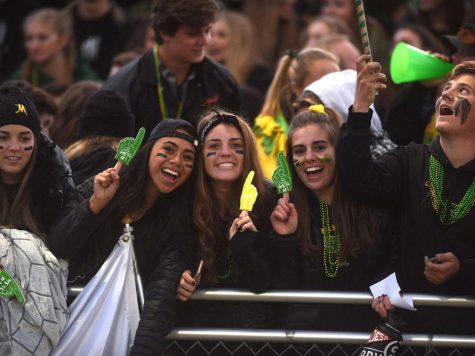 As the cheer squad continues to build on the foundations of sideline cheer, the Jessicas anticipate "a strong crowd following." Bradshaw expressed that, "There is still work to be done; we really need to focus on the quiet moments before kick-off and to get the crowd excited and clapping and on their feet jumping and yelling."  The cheer squad is advancing every day. Zeilger states, "The girls are going from point A to point Z in a matter of a few practices and are constantly getting better every day." This truly encompasses how much commitment and love the Jessicas have put into the making of the Manogue Varsity Cheer Squad.