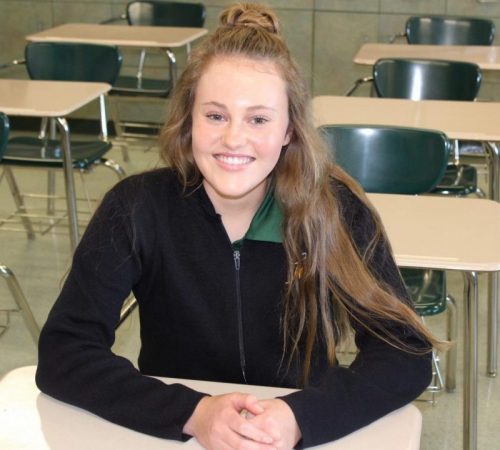 On the spot prayer returns with an in-depth look at Annika Galvin who shares prayer duties with Gillian Trujillo (introduced in the November Miner Detail) on Miner TV. Like Gillian, Annika brings upbeat and relevant messages to the Bishop Manogue family. Two years ago, Annika delivered an impromptu dinner prayer during the Winter Quest retreat.  Father Richard was so impressed with her approach and message, that he offered her a job doing the same on Miner TV where she has become a regular.
Annika's inspirational prayers motivate her listeners to focus on actions that might influence others in positive ways stating, "Hopefully my prayers can reach someone, and let them get closer to God." Like Gillian, her co-prayer partner,  Annika composes most of her prayers on the spot. "Sometimes I'll take the time to write them down if it's a certain time of Liturgical year or if someone has asked me to pray about a specific topic, but usually," she adds,"I will just do them off the top of my head." Annika also manages to juggle sports, being on the Varsity Golf and Track teams, with a demanding academic schedule. Without much free time, she says that, "I end up doing a lot of homework, but I put my dedication into all of [my responsibilities]."
Working diligently to share meaningful messages, Annika expects to continue her prayer duties for as long as possible because she "…really enjoys doing it." She hopes to encourage her listeners to begin their day extending a helping hand or just sharing a smile because these small but positive gestures can change someone's "bad" day into "good"!