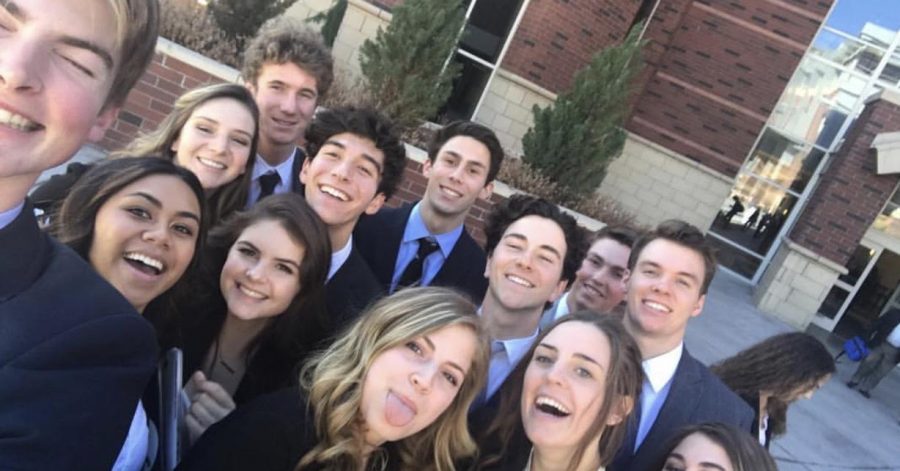 Photo courtesy ( Addi Wingate)
We the People of the United States, in Order to form a more perfect Union, establish Justice, insure domestic Tranquility, provide for the common defense, promote the general Welfare, and secure the Blessings of Liberty to ourselves and our Posterity, do ordain and establish this Constitution for the United States of America.
The Preamble, the opening statement to the United States Constitution, "established America's national government and fundamental laws and guaranteed certain basic rights for its citizens" (https://constitutioncenter.org/).
Here at Bishop Manogue, senior students in the AP We the People class, taught by Mr. Rossolo, study, analyze and debate court cases, and the principles and values of the U.S. Constitution and the Bill of Rights. "The culminating activity is a simulated congressional hearing in which students testify before a panel of volunteer attorneys, educators and civic leaders. Students demonstrate their understanding of constitutional principles and have opportunities to evaluate, take positions and ultimately defend those positions on relevant historical and contemporary issues…. Regional competitions precede the state final, which determines the team that will represent [Nevada] at the national competition in Washington, D.C. "(www.classroomlaw.org). The first qualifying competition was held Dec. 16, 2017, where, for the first time, Manogue's We the People class earned a spot in the top 3 out of 12, earning a 3rd place finish, behind Reno High and Incline High, securing their spot in the State competition on Feb 3.
Attaining this prestigious level of competition is the result of much preparation consisting of "many late-night and after school meetings [including] lawyers, professors and judges who coached the students over an 8-week period," said Rossolo. Although the students faced stressful situations working toward the competition, Rossolo felt that these struggles ultimately helped them perform well because they were familiar with pressure and confident in their overall knowledge of the Constitution and cross-examination responses. Moreover, Rossolo was confident about their chances of going to State "because they are so bright and worked so hard for it."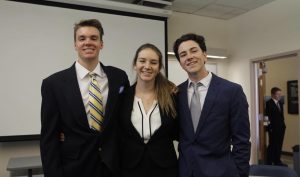 Each participant focused on a particular aspect of the Constitution so that he or she was the "expert" of that constitutional component. Shazia Aumeoualogo's group, for example, studied the "Bill of Rights and its evolution throughout historical movements and societal changes." The judges, she added, "rewarded [us] for our calm appearance and poise, even though inside we were freaking out!" Addie Wingate expressed that her group's ability to make strong "connections between historical and present-day constitutional applications" earned them a high rating." At the state competition on Feb. 3, they did not prevail over Reno High's team; however, their impressive performance as Manogue's first We the People class to place in the top 3 of the Regional competition makes this a monumental accomplishment and one of which we are all so proud.
Congratulations to Mr. Rossolo and to all of the students of We the People!