The Pittsburgh Steelers and the Rookie make History!
The Steel City, otherwise known as Pittsburgh, is home to three professional sports. The Pittsburgh Pirates baseball team, the Pittsburgh Penguins hockey team, and the Pittsburgh Steelers football team. The heart of the steel city and the most popular sport is the Pittsburgh Steelers.
The Steelers are one of the most dominant teams in NFL history. They are tied with the Patriots with the most super-bowl wins at six super bowls. From 1974 to 1979 the Steelers were a powerhouse team and won four of the six super bowls in these years. The Steelers are one of the best teams to ever play the game, and they just got better.
On Sunday, October 11, 2020, the Pittsburgh Steelers beat the Eagles 38 to 29. This put their record to four wins and zero losses. Winning this game allowed the Steelers to have a perfect 4 game record for the first time since 1979. They used T.J. Watt and the resurrection of the Steel Curtain. The powerhouse offense that is Ben Roethlisberger, James Conner, Juju Smith-Schuster, and they had the help of the rookie, Chase Claypool.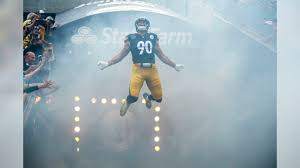 This resurrection of those former Steelers teams is shaping up to be a very good season for the steelers. They matched a Franchise record and their momentum doesn't look to be stopping anytime soon. But matching one record wasn't all they did.
Remember the rookie I talked about, Chase Claypool. This second-round pick out of Notre Dame had high expectations for himself coming into the pros. In his first three games, he caught a touchdown or two, had a few sidelines catches, and some good yards. But nobody expected this rookie, with no preseason experience, no knowledge of professional play until just a month prior, to do this.
He came out calm with a short two-yard run in for a touchdown. That's one. He then decided to go a little bigger and had a very nice 32-yard touchdown pass. That's two. Chase got very excited when he got a 5-yard screen pass for a touchdown, putting the Steelers ahead against the Eagles. That's three. Three touchdowns, by one man, in one game.
There are NFL games where neither team can score that much as a whole, but this one man, this one rookie, did it. But we aren't finished yet. Chase Claypool lined up to the right. The ball is snapped. Ben looks, and he throws. He throws a wide-open pass to Chase Claypool who shoves a dagger into the Eagle's chances of winning and becomes the first rookie in NFL history to score four touchdowns in one game.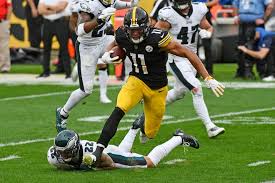 This team is ready for whatever the NFL throws towards them. This team is ready for the challenges of the Ravens, looming in the distance. This team. This time. This moment. Here come the Pittsburgh Steelers, and their star rookie.