Zach is running through records!
Zach Harris sets several records in cross country as his senior season begins.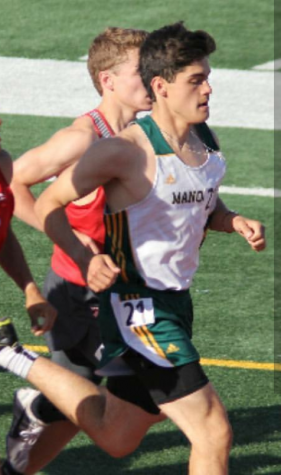 Senior and captain of the cross country team, Zach Harris, has broken several records the last couple of weeks. Today, he holds the Manogue record in the 3-mile with a time of 17 minutes, 13 seconds and  holds the second fastest records in our school history for the 2.55-mile and the 4,000-meter both with a time of 13 minutes, 38 seconds.
Cross country has not always been Harris' passion. He began running long-distance track his sophomore year and ran his first cross country race last year! Despite his late entrance into distance running, he has been extremely successful due to his dedication and hard work. He runs throughout the summer with the cross country team, participates in track season, and trains on his own. Additionally, he strength trains to become faster every day.
Harris loves to run for many reasons, including competing with and bonding with his teammates. He considers running a "natural blessing" in his life because it allows him to enjoy the outdoors and relieve any stress from his day. He says that running "will always be a part of my life," which is why he wants to continue competing in college. Harris also places a high priority on his education. He takes multiple honors and AP classes and balances these with his busy training schedule. Because he excels in both physical and intellectual capacities, he hopes to maintain a balance between the two during his college career. He feels that his ability to sustain both is a crucial skill needed to attain his college goal of possibly studying biology or religion.
This year, Harris captains the cross country team along with Rosie Linkus, Hannah Covington and Jesse Fry, all of whom are seniors. Together, they form a great leadership unit. Many of the other cross country members will be sad to see them go since they will be graduating in June; but the team has a promising future. This year the team is about 40 people strong with quite a few freshmen.  Even though next year's runners will be a young team, they will have had the distinct advantage of running alongside Harris whose leadership and positive work ethic is bound to set them up for runaway success.