New in Manogue medicine
This year, Manogue welcomes a new teacher, Kelsey Hammerel. Ms. Hammerel (who goes by Ms. Kelsey) is a first-year Sports Medicine teacher at Manogue. She graduated from California State University and lived in Brentwood, California before moving to Reno to take on an athletic training position at an orthopedic clinic. When she learned that a sports medicine position was open at Manogue, she jumped on it because one of her goals has been to educate young people. She was inspired to teach by her own sports medicine class in high school. So far, her favorite part about teaching is the student-teacher interaction. "Ms. Kelsey is enthusiastic about any questions her students need to ask," says one of her students.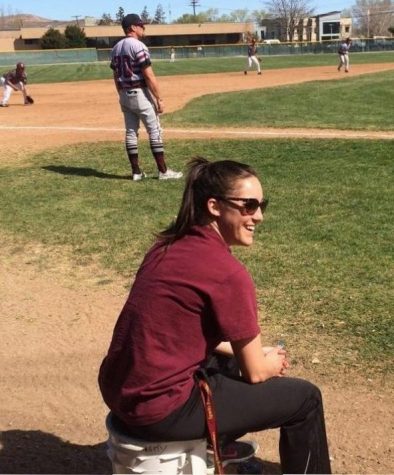 To explain sports medicine, Ms. Kelsey says, "We go over all the different health care professionals that contribute to sports medicine, important conditions of the body, and injuries to different body parts and joints. We learn a lot about soft tissue sprains as well as preventing further injuries and bandaging and taping techniques." She wants to see her students proficient in their taping skills and their ability to take someone's vital signs, as well as being able to make a diagnosis and give an appropriate treatment plan for an injury.
It is obvious Ms. Kelsey has had a lot of experience involving sports medicine which makes her a perfect candidate for this position. Outside of school Ms. Kelsey loves anything involving the outdoors, such as walking her dog, hiking, and snowboarding. She has always loved sports and was a cheerleader for all four years of high school. We are excited to invite Ms. Kelsey into the Bishop Manogue family.