Targeting Bishop Manogue's Rifle Team
What are the goals of the Rifle team: aiming accurately, having fun, competing, building team spirit? We interviewed rifle team members Riley Dion and Lucas Testa, and the rifle team's coach, Mr. Johnson, to learn the particulars of this unique sport. What is the Rifle team really all about?
Riley Dion, says that competitive air rifle shooting is "the one sport in Manogue where you can be a family; it doesn't matter the team you're on."  "Family" is the bottom line for this team. "It's not necessarily about competing," says Lucas Testa. For them it is all about having fun. They really appreciate the members of their team, and create close friendships regardless of  how well each one shoots.  "The Rifle team teaches a lot of life skills," says Rifle Team coach Mr. Johnson. "It teaches discipline, self control, emotional control, and self confidence. All of those things are beneficial for when you get out of high school."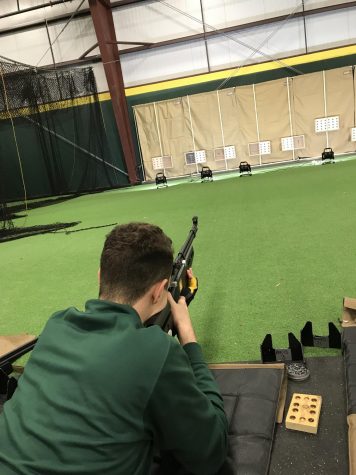 Mr. Johnson, the head coach, has been involved in various shooting sports for years. He enjoys recreational shooting and is also highly skilled, having just missed qualifying for  the 1984 Olympic Handgun Team. After employment as a criminal investigator for 23 years, Mr. Johnson decided to work security at Douglas High School and run the ROTC program there. He then made the move to Bishop Manogue, teaching government, law and U.S. history for four years. He then decided to take on the job of Dean, which he has held for the last two years.  He has enjoyed both jobs at Manogue, but especially loves watching the students grow from freshmen to seniors. One of his main goals is teaching young people how to learn from their mistakes. Life skills can be taught inside and outside the classroom, and since Johnson still considers himself a teacher, he now "teach[es] life."

Mr. Johnson drew from his former experience as the ROTC director at Douglas High School to initiate the Rifle Team at Manogue. He intended to start an ROTC program here, but initiated the Rifle Team instead which is allowed to compete with other ROTC schools. We are currently on the waiting list for an ROTC program; and in the meantime, the Rifle Team has been a great addition to Manogue!
Mr. Johnson carries his teaching philosophy into his Rifle Team leadership, where team members not only learn the rules and techniques of shooting, but also develop the mental focus needed to be successful at this sport. Competing against each other and other rifle teams provide the perfect venue to develop these skills. These competitions follow Olympic guidelines, with three sets of 10 targets.  The goal is to hit as close to the center of the target as possible to obtain the most points. To maintain and improve their shooting skills, the team practices three days a week at the indoor baseball and softball facility. The rifles they use are not actually firearms, but air rifles which use compressed air to launch the ammunition as fast as 600 feet per second.
The Rifle team's focus also includes fun games during practices and school-wide activities to fund their team expenses. Occasionally, the team holds a candy shoot at practice with the highest scoring shooter earning the candy. The team self-funds all of its activities with the main fund-raiser being the annual Turkey Bowl, this year held on Nov. 4 in the SCC.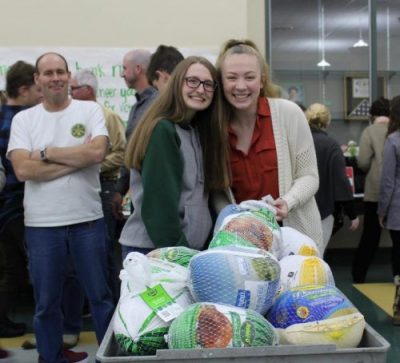 This event had something for everybody: a silent auction, face painting, Bingo, a delicious catered dinner by Qdoba, and the main event, Turkey Bowling. Here, the bowler had to throw a frozen wrapped turkey to try for the strike. Winners could choose to keep the turkey or donate it to needy families for Thanksgiving dinner.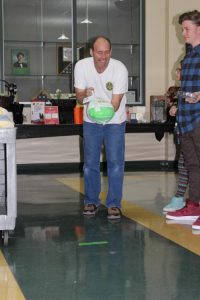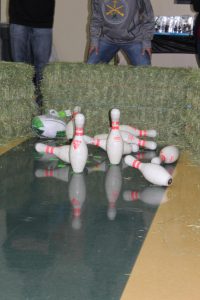 With its strong start this year, the Rifle Team is anxious to begin their season as a connected family not focused solely on winning, but having fun. If you are interested in joining rifle team next season, stop by Mr. Johnson's office for more information.