Craig Holt Returns to Coaching Girls Basketball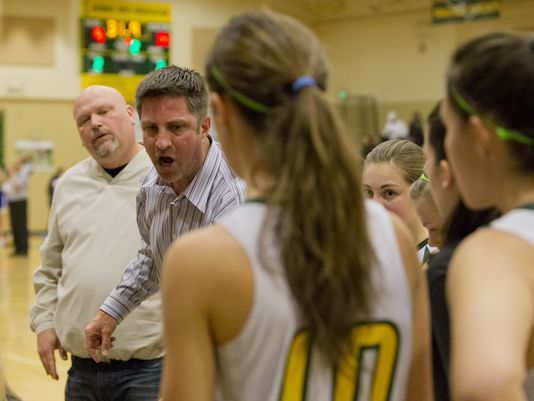 Craig Holt is no stranger to the sport of basketball, and certainly no stranger to Bishop Manogue basketball.  His three daughters, Kenna (sophomore), Malia (class of '17), and Breezi (class of '19), have each had major roles on the Manogue women's basketball team — leading their teams to several playoff tournaments and even state championships over the years.  Malia and Breezi both play for the Cal Poly Mustangs.
It seems that basketball may run in Holt genes: after playing college basketball at Loyola-Marymount in the late 1980s and early 1990s and starting in all 31 games in the 1990-91 season, Craig Holt coached boys basketball in Reno in 2008.  He took over the Manogue women's basketball program in 2010, then stepped down in 2015 "to spend more time with his family," he told RGJ.  After two years away from coaching, Craig Holt is back coaching Bishop Manogue basketball.
Holt told the Reno Gazette-Journal that he was refreshed and will return to coach girls basketball at Manogue: "After being away from the game for two years, I realized that I still have a lot to offer these young teenagers and look forward to furthering the program," Holt told RGJ's Jim Krajewski in April.  "I feel like I want to come back and make an impact in the kids lives. I still have a little left in me."  The Miners won the Northern 4A Regional for the third consecutive season in February of this year.  "I hope we can continue to build the program up and continue our run of success," Holt said.
The Bishop Manogue Lady Miners basketball team beat the Bishop Gorman Gaels, 60-56, on November 30.