Jane Zebrack Dances the Role of Clara in Upcoming "The Nutcracker Ballet"
Jane Zebrack, a junior at Manogue, has earned the prestigious role of Clara in this year's "The Nutcracker Ballet" at the Pioneer Events Center.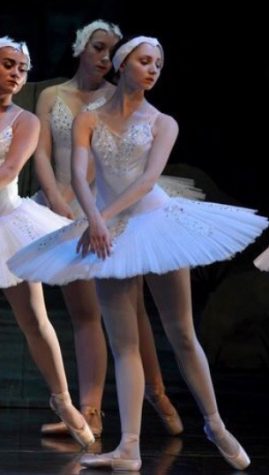 Jane has had an extensive career in dance which began at only 3 years old. Ever since, she has danced in multiple ballet performances and has participated in many ballet intensive programs around the country. Just this past summer, Jane spent 3 weeks at a summer intensive at the Joffrey Ballet School in New York as a scholarship student. She currently dances at the Conservatory of Movement in Reno, NV.
Jane regularly dances 3 hours a day, 6 days a week. During her practice time, she takes pointe and technique classes along with preparing for spring exams which will move her into the next grade the following year. However, in addition to her regular classes, she rehearses for the Nutcracker on Saturdays and Sundays making it a 7-day dance week. She has been rehearsing her role as Clara in the Nutcracker since the beginning of October. 
Jane has a lot of experience performing. She has danced in "The Nutcracker Ballet" every year since she was 6 years old. Her favorite role she has played besides Clara was when she performed the Waltz of the Flowers in "The Nutcracker Ballet" last year. Clara is the most significant role Jane has earned and states that she is, "very excited," to be performing it.
Jane enjoys to dance because it, "requires a lot of discipline and patience [as well as] dedication," and she likes "being able to continue to build on [her dance] strengths."  She would also like to continue dancing in college because it has become a part of who she is.
In addition to balancing 7 days of dance, Jane is taking 6 AP classes this year and aspires to be a doctor. She also cheered basketball season last year and football season this year. She liked doing this because "it is similar to ballet and it was also a good opportunity for [her] to try something new."
Come see Jane perform December 8-10 at the Pioneer Center! You can buy tickets here.