Spare Time With the Bowling Team
Bowling has become quite popular as a competitive sport.
Bowling, a popular sport in recreational and professional athletics, is often overlooked in comparison to other acclaimed high school sports, but that does not diminish its appeal to many. "Bowling has become quite popular as a competitive sport among high school and college students, as we have seen trends change drastically to include bowling as a varsity sport" (www.brunswickbowling.com). Here at Bishop Manogue, we have our own Bowling team with 19 players and coached by AP English teacher, Mrs. Leblanc. The bowling team has had a good start to the season with an impressive victory in the playoffs against Wooster, 27.5 to 17.5, but fell to Spanish Springs 31-14.
The best part of coaching the bowling team according to Coach Leblanc, is the students, and seeing them improve and grow. "The most rewarding thing is seeing kids put in practice time, maybe get lessons, but work hard and increase their averages. It's great to see their hard work pay off." Bowling was not Leblanc's first choice for coaching because she was formally an assistant coach for JV Softball; but when she started coaching the Bowling team, Leblanc loved it from the start. "I never knew how much I would love coaching this team, and these kids are always able to put me in a better mood with their great attitudes."
Bowling is appealing to a wide variety of people because of its dual ability to be both "very relaxing and competitive at the same time," says team member, Aidan Thomas. Bowling in matches is still competitive for the Manogue team,  but there is not major pressure to be the best or to get ahead of the opposing bowler . "Yes," Thomas clarifies, "you want to do well; but you also just want to have fun and enjoy bowling."  The Manogue players characterize their sport as one in which players can win or lose to their opponent and still have fun, regardless of the outcome.
What a lot of people do not know about bowling is that there is much more to it than throwing the ball down the lane; players must master specific techniques and strategies to play well. To obtain good scores, bowlers must consider a number of factors such as: how much oil there is on the lane, how to throw the ball, how much spin they need to put on the ball, what type of ball to use, where the ball should hit the pins, and how hard or soft to throw the ball.  These factors define the bowler's style and how he or she plans to get strikes. For example, Aidan Thomas says that he likes to bowl two-handed so he can "throw the ball with the maximum amount of spin and power to get a strike."  The variety of different techniques is sometimes overwhelming to new bowlers. The best advice for a beginning bowler is to start bowling with "whatever way he [or she] feels most comfortable," says Thomas, [and then] "learn new ways to get the strike."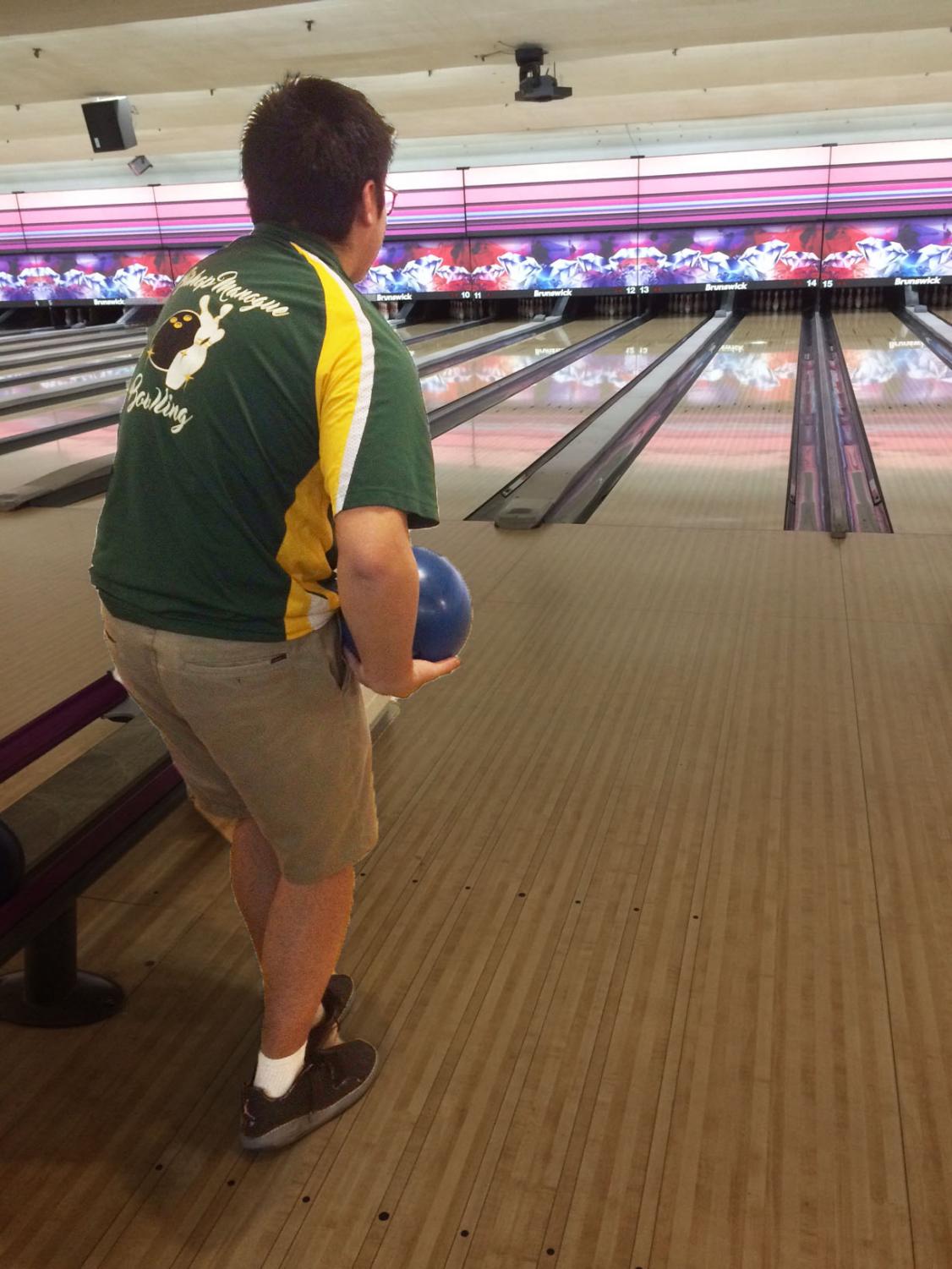 One of the biggest challenges of the game is when a bowler is not playing as well as usual. When bowlers have bad games, they usually get frustrated or angry at themselves which negatively affects the next game, a true domino effect.  Bowling well takes concentration, and the ability to mentally recover and move forward is a must.  Starting each game with a fresh attitude and deciding how to best improve for the next competition are key.
Bowling is challenging, energizing and, most of all, fun. If you would like to join the Manogue Bowling team or get more information about it, speak with Mrs. Leblanc. The bowling team is a great way to participate in a sport and have a great time.
Here are some interesting bowling facts:
Bowling can be traced to the ancient Egyptians who played this popular game 500, years ago.
A bowling ball is allowed a maximum of 12 holes.
The most a bowling ball can weigh is 16 pounds, but there is no limit on how light it can be.
Bowling balls were made out of wood in the early 1900's.
The largest bowling center in the world is in Japan with 116 lanes.
The only bowling stadium in the world is here in Reno.