Winter Athletes Exceeding Expectations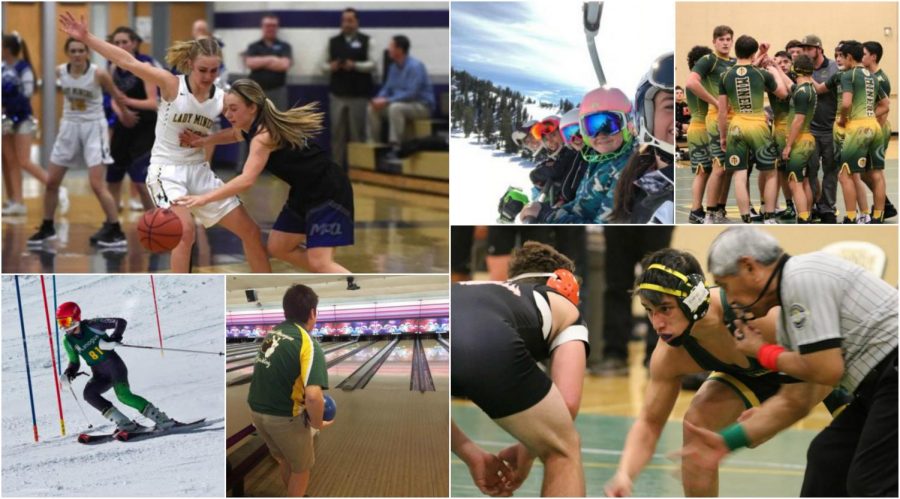 Jocey Reyna, Reporter
February 23, 2018
During the winter season, Manogue student-athletes excel in a variety of sports: basketball, skiing, wrestling, and bowling.  These teams' accomplishments showcase their diverse skills and commitment to excellence.
Boys Varsity Basketball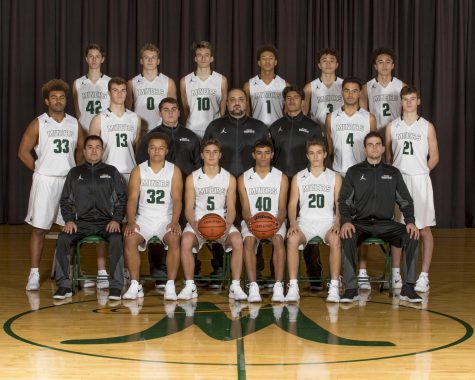 The boys brought their A-game to the court with their 21-4 overall record outside of League play, with losses to Spanish Springs, Reno,  Mountain View and Bishop Gorman.  Team players, Juniors Gabe Bansuelo and Kolton Frugoli, scored 18.3 and 14.1 points per game, respectively (Stats courtesy RGJ), and the team is now ranked 1st in the 4A Sierra League. In the first playoff game of the season, Feb. 14, Manogue prevailed over McQueen 61-52. In the first Regional semi-final game, Feb. 16, Manogue towered over Reno High 61-48. On Feb. 22 at UNR's Lawlor Events Center, "Bishop Manogue played shutdown defense and pulled off one of the biggest upsets in recent Nevada history" (RGJ) with a score over Las Vegas's Canyon Springs, 64-58. On Friday, 2/23, Manogue played Bishop Gorman at Lawlor for the NIAA Championship. Manogue led 21-18 in the 2nd quarter, but fell to Gorman 62-41. Congratulations to this powerhouse team for a thrilling season!
Girls' Varsity Basketball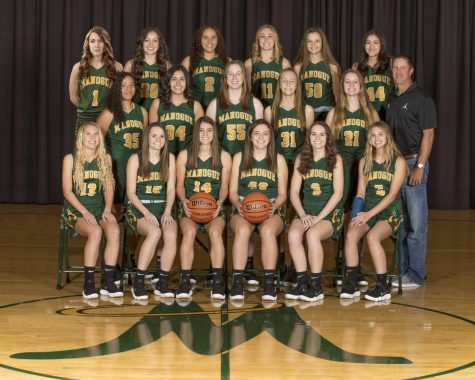 The Girls' Varsity Basketball team, ranked 7th in the state (Max Preps),  leads the Northern 4A Sierra League with a 10-1 record. In January, the Lady Miners crushed Damonte Ranch 51-38, as Kenna Holt scored 23 points while Kelsey Sprouse added 9. Their first playoff game, Feb. 13, against Reed secured the win with a final score of 76-52. Unfortunately, on Feb. 15, Manogue fell to McQueen 35-46, ending the girls' season but not their reputation. With their effective teamwork and strong determination, they expect to bounce back next season better than ever.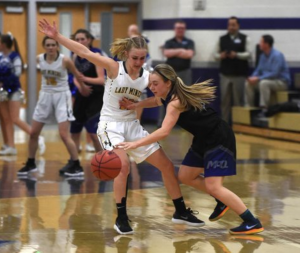 Ski Team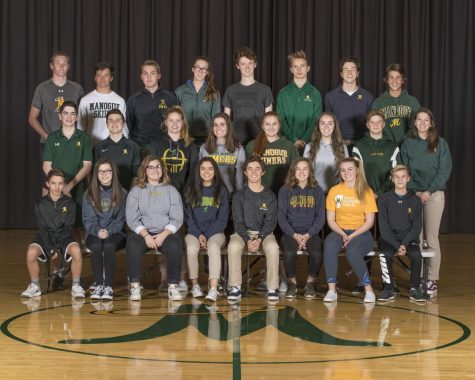 Manogue's skiers never disappoint! The returning skiers from last season, coupled with the skills of the newer members, strengthens the team as a whole. Final season results illustrates how talented these skiers are.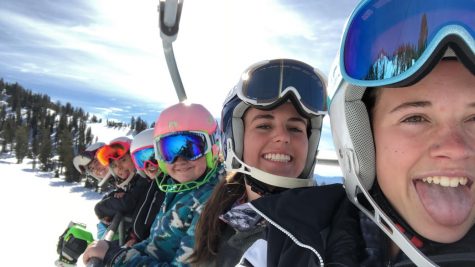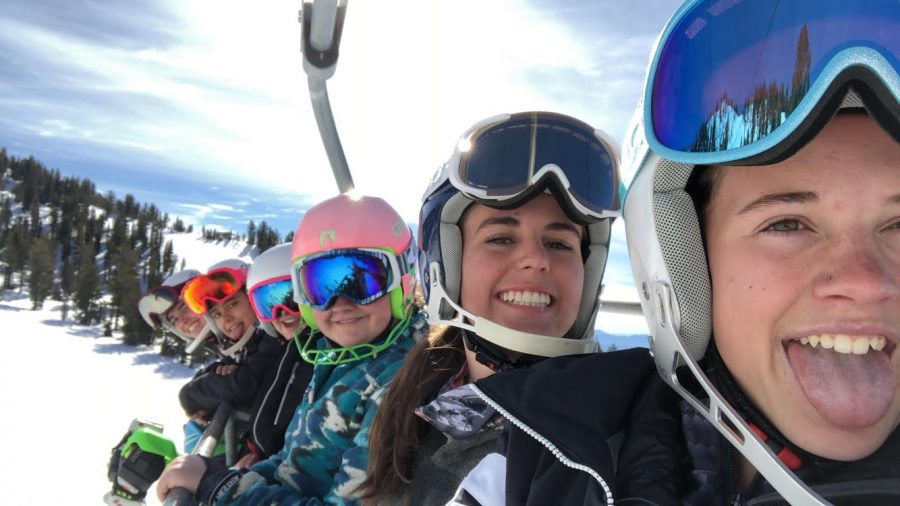 In Giant Slalom, senior Gigi Taylor took 1st place in State and reigns as Overall Girls' State Champion. Nick Fischer also took 1st place in his Giant Slalom race.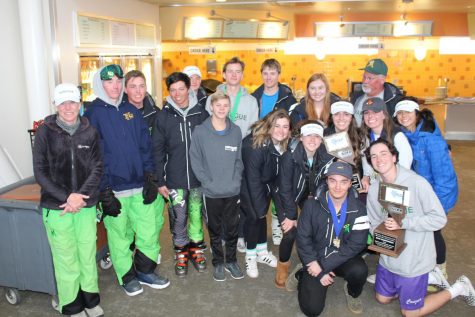 To round out the wins, Katie Fischer, Trent Funke, Sophia McClean, Nick Baier, Gabe Kenny and Sarah Brown all finished in the top 10 in the events they were competeing soon,landing both the boys and girls in 2nd place in State. Great way to make tracks, team!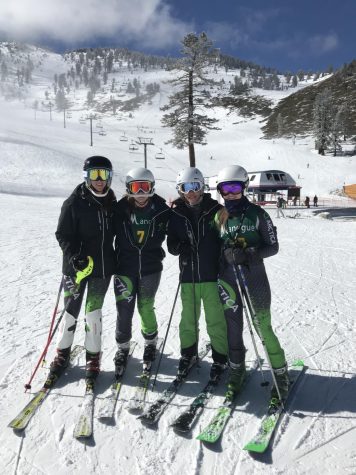 Wrestling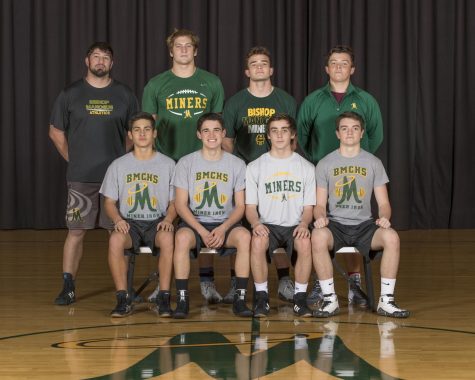 Without a team that is big enough to compete in multiple weight classes, the Manogue wrestlers have may not have won a match, but they are impressive nevertheless.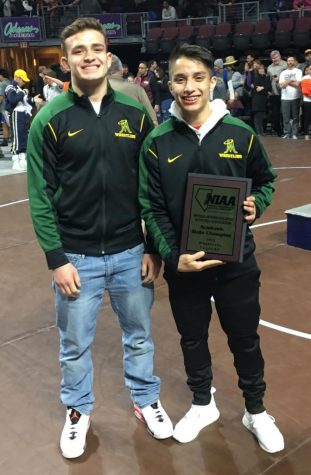 Because of their small numbers, it is sometimes viewed more as an individual rather than as a team sport; and there are definitely some powerhouse individuals on this team. Top honors go to Anthony Rosas – 1st Team All-Region, 132 lbs; Lincoln Hauck – 1st Team All-Region, 170 lbs; and Ryan Miller – 1st Team All-Region, with Hauck and Miller competing at State. They are tough –  and smart, too, winning the NIAA's state academic championships for wrestling. Great job on and off the mats, guys!
Bowling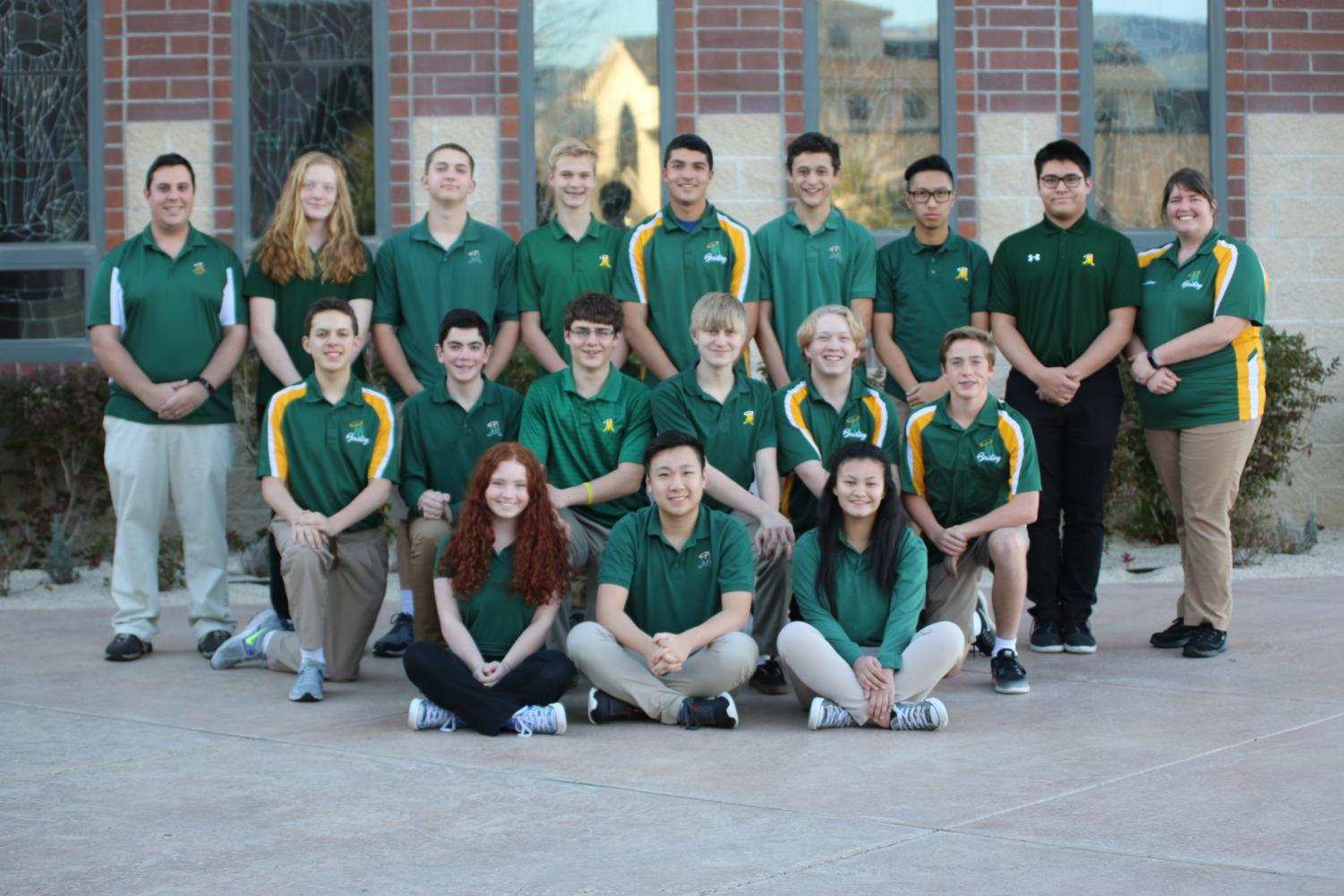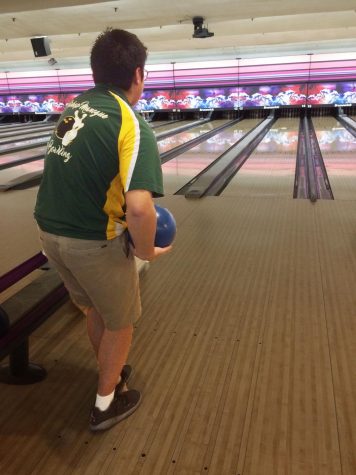 This 19-member Manogue team proves that strength is all in the numbers.Comprised of both boys and girls, this group solidly represents the connotation of "team" with the more seasoned players helping new bowlers learn styles and techniques of the game. In the first round of playoffs this season, Manogue beat Wooster 27.5-17.5, and then fell to Spanish Springs in the playoffs' 2nd round. While they love to compete against other schools, they also enjoy playing their sport regardless of the outcome. They plan to continue to improve and come back next year ready to strike!