Smoke Affecting Students
With multiple massive fires surrounding Reno, we have had serious air quality issues that have directly affected our student sports activities. Manogue's student athletes who have been busy preparing for the fall season. But the fires have been covering Reno with a blanket of stagnant smoke. A few sports have even had to cancel practice due to the poor air quality. With fewer practices, many students athletes are worried that the air quality will set them back in their training and affect their teams' performances in games.  
Allison Matteoni, a varsity cross country runner, believes that the canceled practices due to smoke will have a detrimental effect on the team.  Matteoni says, "we missed a whole week [of practices] because you can't run over 120," referring to the air quality scale. She shares that because they have "12 new people joining cross country," the lack of continuous practice for these new cross country runners will hurt their race times at meets. Air quality of 120 becomes unhealthy for people with heart or lung disease and running in poor air quality can lead to an increased risk of developing asthma. Matteoni has asthma which greatly affects her even without intense running.  Cross country is a very demanding sport on your body with running 5 to 10 miles a day; let alone having such bad air quality taking a toll on your lungs. Other Manogue student athletes in different sports have had similar issues with the smoke.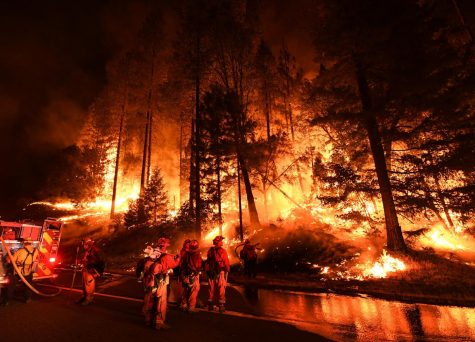 The fire contributing the most smoke to this region is the Carr Fire which began in Shasta County of northern California on July 23 and is now almost completely contained at 98%. The fire first began due to a car fire which spread through the dry brushes with the help of a strong wind. Despite the poor air-quality the Reno-Tahoe area suffered from, some regions such as Chico were hit harder with reports that the sky was "raining ash." The smoke has finally cleared out of our valley, but the effects it had on Manogue's athletes will continue to be seen throughout the season.