New Teachers Feature: Mr. Hetu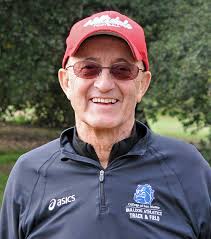 Mr. Hetu is a new teacher at Manogue this year, though he isn't all that new because he has been long term substitute for Mrs. Leblanc while she is on maternity leave. Though he is a teacher here now, he is a interesting man as he is one of eight siblings born in Canada and native French speaker.
He was considered a, "…laten learner." who found it difficult to learn English, math, and science. Despite these challenges, he never let that stop him from achieving his goals. He went on to study four majors consisting of education, physical education,sociology, and education administration. Due to his initial learning difficulties, he became heavily involved in athletics seeing them as his "Savior" where he "learned about values, competition, leadership, and teamwork." He ran track and cross country collegiately before going into coaching. As a coach, he worked with a wide range of athletes from the Olympic level to special need athletes.
At Manogue, he doesn't see students as, "…teenagers but as young adults." He notices that students here are great people that have an, "…insatiable appetite to learn," something that sets Manogue students apart from others he has taught in the past.Hetu offers some handy tips for students this year, to be optimistic and positive about life, he encourages everyone to always look for help when you need it and to be around people that are, "…goal seekers not gold seekers, G.O.A.L!"
Additionally, Mr. Hetu loves to travel, especially to Salzburg, Austria and to Rio de Janeiro, Brazil. His favorite thing about Austria is their delicious food and he shares a deep love for music with Brazilians he visits. Mr. Hetu strives to make every day his best, living by the saying, "If I know tomorrow is the finish line of my life, how should I live today," which he applies it to every aspect of his life like coaching, his teacher life and his deep love of running.