Miners Volleyball Defeats Reno in a Thrilling Match, "High Hopes" for a Successful Season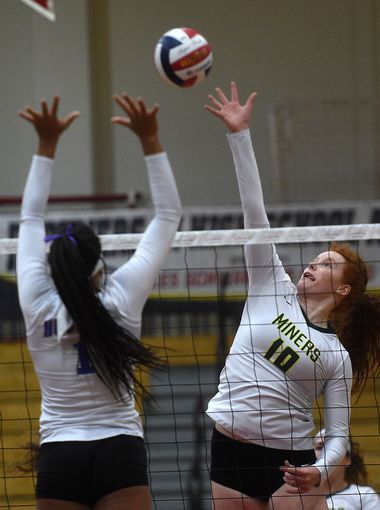 On Thursday, September 6, perhaps one of the most raucous pairs of student sections ever seen at a regular season volleyball game — the Reno Huskies and Manogue Miners —  were packed on either side of a sweltering, deafening Reno High gym.
The Reno Huskies and Manogue Miners (both undefeated in their leagues heading into the Sept 6 match) meet once a season in a match that RGJ calls a "showdown," with most expecting these teams to be the last two standing in the northern playoffs in November.
Senior Allison Gunderson, team captain, believes the team has the strength and discipline to succeed this year.  "Reno is definitely our biggest rival," says Gunderson, so the Reno match was set to be one of the most challenging games on the Miners' schedule.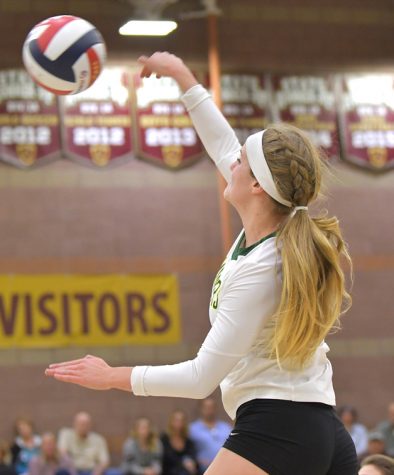 The Miners took the first set, 25-18, but in the next two sets, fell short to the Huskies 15-25 and 8-25.  Under pressure to take back the game, Manogue coach Jason Sterrett switched Gunderson's position from outside hitter to libero.  This switch saved Manogue, and they took the fourth set in a thriller with a final score of 25-20.  Finally, in a nail-biter fifth set that was back-and-forth for the final five points, Manogue won 16-14 and the student section stormed the court.
Allison Gunderson led with 11 kills and 15 digs, followed by Emma Pence with 10 kills. Junior Sarah Cantwell (outside hitter) and freshman Tori Harper (opposite/middle blocker) added 6 kills a piece. Senior setter Abby Guinn posted 24 assists followed by junior setter Lucy McElroy with 21.