Reno Riding and Rescue: A Service Opportunity for Manogue Students
Reno Riding and Rescue is a horse rescue program in Reno that helps injured horses who have been neglected or abandoned. These rescued horses are re-trained to help with therapeutic riding for people in the community. The participants who ride the horses and volunteer are greatly impacted by the program. Alli Christy, a junior at Galena High school, shares that she realized "you can connect with something much greater than yourself."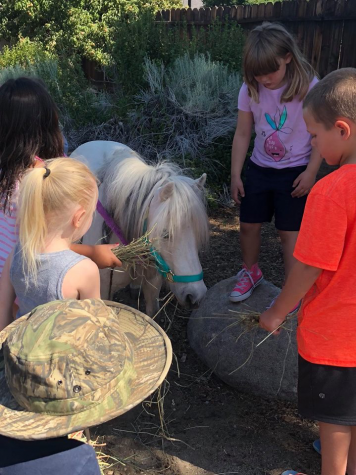 As the program began to expand, the Kids Cottage brought volunteers to help out at the barn. Reno Riding and Rescue now has multiple volunteers who assist with feeding the horses, picking up after them, grooming, and cleaning tack. Volunteers who enjoy working with the horses can be promoted to helping with the therapeutic aspect. These volunteers begin "side walking" where they walk with or help the people riding the horses if they cannot stay on by themselves.
Although it started as a program that helped children, it has expanded to helping people of all ages including an 88-year-old man, who is still riding today! The special part about this program is that it benefits the community and provides a "safe place" for people to come and take a break from the chaos of society. This program is an amazing chance to help someone in need. You are not only helping the horses, but also changing the lives of the participants.
This is a wonderful service opportunity for any Manogue students interested in the cause. Through the program students will gain knowledge of horses and those riding them. Cara Kaufer, the founder and operator of  Reno Riding and Rescue, explains that these horses present healing powers that can emotionally transform a person. Do not hesitate to volunteer and be a part of this amazing program!