Homecoming: A Spirited Time of Year
Homecoming is the most spirited time of year filled with Manogue traditions and lasting memories. This year, the theme was music festivals; freshmen were Night in the Country, sophomores were Woodstock, juniors were Rock on the Range, and seniors were Life is Beautiful. Sophomore, Jeffery Arao, shared that Homecoming is important to him because it "is a way for Manogue families and students to come together."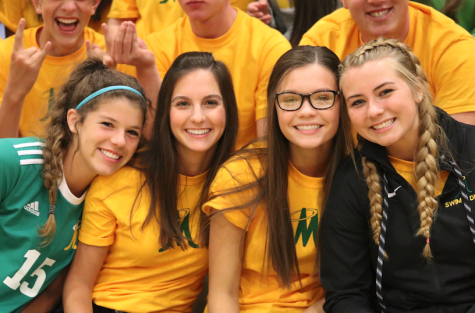 Homecoming week began with Night in the Country giving Manogue the opportunity to go western and gallop out in full pursuit of the cowboy theme. Movie night, an all-time student favorite, took place in the gym on Monday with a screening of "The Greatest Showman". Tuesday, hippie style made a comeback from the Woodstock 60's and brought along with it peace between the classes followed by Flood the Field. The Girls Varsity Soccer team took on Spanish Springs with the school's full support. The classes were rebellious in the Rock on the Range theme the next day, which in no time transformed into the colorful 80's for skate night at Roller Kingdom. The festivities continued with Life is Beautiful that had everyone decked out in a rainbow of neon colors. That night, Jam the Gym created needed momentum for the Varsity Volleyball team to pull out a 3-2 win against Damonte Ranch. Way to go Miners!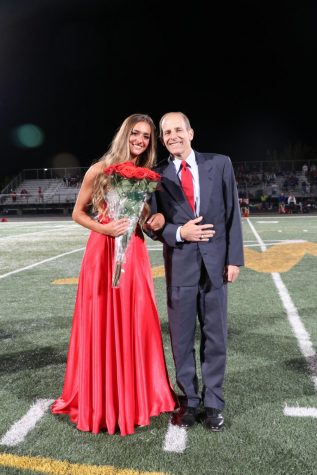 Friday came quickly with class shirts in Miner green and a combination of all the themes into one masterpiece. Manogue is not just good at their Homecoming Pep Rally; they are gold at it. The anxious students went into school spirit mode as they laughed, cheered, and met their Homecoming court which consisted of Peyton Dixon and Ellen Nutter, Ellen Bayliss and Daniel Bansuelo, Josh Rolling and Maggie Joseph, Chelie Senini and Calvin Bailey, and Chase Bowers and Eleanor Salkoff. The stands filled up that Friday night for football, with Manogue taking a 34-14 win against Reno. Junior, Andre Luo, exclaims that his, "favorite memory of this homecoming was watching football with everyone." Though it seemed the excitement had come to an end, it had just begun, as class floats proudly cruised around the field. The Manogue community then witnessed the crowning of 2018 Homecoming King Peyton Dixon and Queen Eleanor Salkoff. This added to Salkoff's great senior year as the whole week was, "…incredible! I have never experienced anything quite like that before and I never could have imagined it, but it's truly a special moment that I will never forget and I was so happy to be able to see old friends and my family at the game."
An unforgettable night meant that an unforgettable day was approaching with the Homecoming dance. After weeks of asks and chaos of what to wear, the day finally arrived and everything fell into place. As the doors opened, it was time to dance the night away and a favorite moment was when Neil Diamond's 70's classic, "Sweet Caroline" was blasted on the speakers. Every student raised their voices to sing along to the song that has made many happy for decades.
This year's homecoming left Bishop Manogue different than before because of the united community Homecoming created and left for us to enjoy.