An Inside Look at Cheer
Manogue's cheer team,  led by Coach Jessica Bradshaw, are working to become one of the best sideline cheer teams in the North. Isabella Cibulsky, senior, shares that the team's goals for the season include, "grow[ing] as a team and show[ing] people what we are made of." Nutter emphasizes the team aspect that is crucial in every stunt, performance, and cheer. Everytime a stunt is put in the air, it is a result of trust between the whole pod that is carefully cultivated. Every drill is important and Coach Bradshaw puts a  lot of time into perfecting fundamentals for the team to build off of.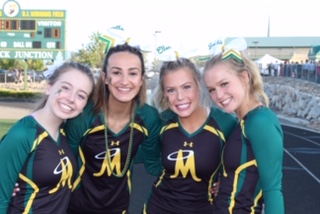 Spending two seasons together cheering, for both football and basketball, the girls form a strong bond which is a huge part of what makes the team successful. Before every football game, the cheerleaders get together at one of their teammate's houses to eat and get ready together. This gives the girls a chance to get to know each other a little better and helps the group dynamic flourish. Hannah Shultz, senior and captain, fosters this environment by "encouraging" each girl to be her best and patiently gives tips for memorizing routines and executing certain stunts.
Ultimately, the cheer team works really hard to get the crowd involved and supporting Manogue's sports teams. The team is passionate about growing school spirit, so next time you are at a game, step out of comfort zone and following the cheer team's lead!