Field Hockey Scoring New Goals in Reno!
Pass, Pass, Shoot! Another goal for the Miners. Field hockey. A beloved sport throughout the West, East Coast, Midwest, of the United States, field hockey offers kids an amazing opportunity to grow as a team, learn sportsmanship, and create bonds that will never be broken.
All it takes is a stick, a ball, and a whole lot of love. Field hockey is a national sport played throughout the world. In the United States it is primarily played by females. Field hockey offers incredible scholarships to prestigious schools if recruiters see you thrive in your environment. Girls at the age of 15 have committed to playing at Princeton.
Although this sport is widely known, there are still places that have yet to find out about it, including most of Reno, Nevada. As it stands, Bishop Manogue is the only high school in the area to offer field hockey. The club was just adopted and implemented as a club at Manogue this year by Maddy and Olivia Lister. The game is played every Monday and Thursday through November. The club teaches girls in the area how to play this growing sport across the United States. If you leave the West and visit the East, one would most definitely be able to meet a girl who has played or is still playing field hockey.
This widely loved sport requires 11 players on the field at once, averaging about 21 girls on a team. The game is played on turf, astro turf (water based), or grass. Players use a stick in the shape of a candy cane, which comes in different sizes.
After playing the sport in Chicago, Illinois, Olivia Lister came to Manogue and, noticing the absence, Olivia spearheaded a field hockey club. In the first few weeks of starting Field Hockey at Manogue, many girls showed interest. Melinda Lister, the club's adviser and coach, knows that it is going to take time to allow the sport to grow, just as lacrosse has grown over the last five years. Many of the athletic department stores do not even carry the equipment required. For example, Scheels, a popular athletic department store has heard of the sport, but does not provide sticks or balls in the store.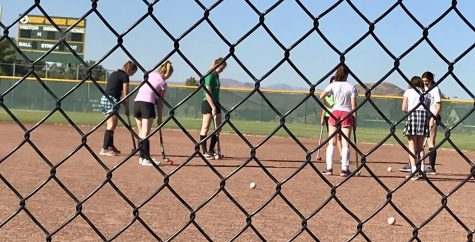 The sport is starting out small, but the Listers hope in the coming years it will grow and expand to other high schools throughout the Reno area. They're amazed it could be so popular in one part of the country and almost unknown in another!  The Listers hope the club will become popular enough to become a sport at the school for all newcomers to play and compete.