Sodality's Women Forming a "More Wholesome and Charitable Community"
Bishop Manogue's Sodality club is a women's service group that helps less fortunate families in the Reno community. The club, led by Mrs. Kearney and Mrs. Sexton, has been a staple at Manogue for as long as anyone can remember. For the young women involved in Sodality, their main focus is to "form a more wholesome and charitable community." The group accomplishes this by organizing service projects for the school to participate in and challenge themselves and one another academically.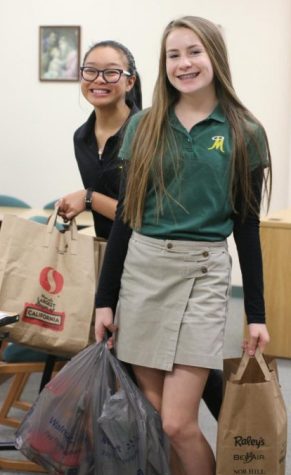 Some of the main events put on by Sodality are the Thanksgiving Food Drive, the Christmas party, and the Easter Carnival. Recently, Sodality has been in full swing collecting canned foods for their Thanksgiving Food Drive. They also sponsored a $5 Halloween Dress-Up Day to raise money for grocery store gift cards to purchase the meat component of Thanksgiving dinner. Manogue's students had outstanding participation, raising $1,977. Mrs. Kearney shares that through this service "many feel an immediate impact" and Sodality members have the privilege of experiencing "first hand the reactions of the children" and "their families" at Sister Carmen's food pantry run out of Our Lady of the Snows Catholic Church. If you are unsure of joining Sodality, just go for it! It is a rewarding way to serve the community and the school.
Globally, the term Sodality has been used throughout early Christian life for voluntary groups of the faithful who desire to work together to the strengthen their own religious commitment and bring the Kingdom of Christ to others. The members of Sodality here at Manogue have accomplished just that. Please continue supporting the club's service initiatives, they cannot do it without you!