Lang Thinks Globally, Acts "Doggedly"
From foreign exchange in Argentina to bringing her service puppy to each of her classes, junior Mikaela Lang finds ways big and small—or with hands, or paws—to connect with and benefit her local and global community.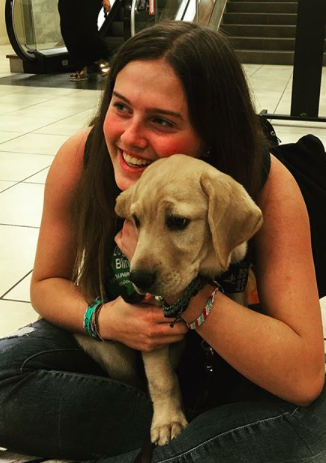 Most Bishop Manogue students know Mikaela Lang as the girl who always has her 8-month-old yellow Labrador Retriever by her side in the hallways.  Ode is the sixth dog—after Subaru, Ian, Linden, Fender, and Nevada—that Lang and her family have trained to become guide dogs for the blind or deaf.  All of them are either yellow labs, black labs, golden retrievers, or golden retriever-labrador mixes. "Every dog has a different personality," Lang explains, "but labs make especially good guide dogs because they are very food-motivated, easy to train, calm, loyal to their owners, and they are always happy."
Since 1942, Guide Dogs for the Blind (GDB) has been building partnerships between people, dogs, and communities. Through instructors, puppy raisers like Mikaela, donors, and volunteers, they prepare highly qualified guide dogs to "serve and empower individuals" who are blind or have low vision throughout the United States and Canada.  GDB "envisions a world with greater inclusion, opportunity and independence by optimizing the unique capabilities of people and dogs."
According to the Americans with Disabilities Act of 1990, a guide dog should be allowed to go wherever a human can go.  Therefore, training a guide dog, and being a guide dog, entails serious restrictions and commitment. "They aren't regular dogs," Lang explains.  "They aren't allowed on the bed, can't play fetch, can't have human food, can't have tug toys, can't roughhouse." For the past few years, Lang has spent about seven hours each week, not including attending weekly GDB meetings and all of the considerations of house-training an energetic puppy, teaching her dogs how to navigate a world designed for humans.  
Ode is currently in the process of "studying" for his GDB test—an intense examination during which he must be able to "guide his owner from point A to point B without getting distracted by food or people, sit on command with or without words, comprehend hand movements he must be able to follow, understand left from right, read stop signs, and even know the height of his owner so he or she does not walk into a branch."  It is a highly rigorous exam and requires diligent practice and discipline on the part of both Ode and Lang.
It is important to note that while at school, Ode is technically a working dog.  GDB says that it is "important for a working dog to stay focused for the safety of the team and maintenance of training standards," so it is an essential courtesy to first ask for permission from Lang before petting Ode.  The more disciplined Ode is while practicing being a guide dog during the time he spends interacting with Manogue students, the more he will be able to help guide a blind person in the real world.
One of the guide dogs Lang has trained, Ian, ended up not passing his GDB test, so he instead became a certified guide for Dogs For the Deaf, which is a Central Point, Oregon non-profit that specializes in training service dogs for people with a hearing impairment.  Now, Dogs for the Deaf is taking their business a step further by training autism service dogs. Dogs for the Deaf CEO Blake Matray said they saw a need for service dogs for children with autism, and decided to act on it. "We recognize there is a tremendous need in this country right now with potentially as many as one out of every 68 children being affected with Autism Spectrum Disorder," Matray said. They presented their first trained autism canine, Lang's trainee Ian, to 10-year-old Parker Sampson in 2016. The fifth-grader loves animals and Ian, like many of Lang's guide dogs, is more than just a pet. Ian is a part of the family and a big help for the boy who has autism.
The best part about Ode, Lang explains, is that "he is especially cuddly."  While she is teaching him to stop before he goes up stairs; always be on her left side while walking; pay attention to Lang, not other people; and adapt to any situation; Ode must essentially become the "perfect dog," says Lang, in order to succeed as a guide dog.  
Unfortunately, as with all foster dogs and service-dogs-in-training, there comes a time when the dog must fulfill his or her duty and move on from puppy-hood into adulthood.  "In one word?" Lang says, "heartbreaking." Letting go of Ode, as she's done with all of her previous trainees, is a part of the process that Lang will "ignore and not really accept until the time comes when [she] actually has to go and put him in the kennel."  Lang does not doubt that Ode will be a best friend and loyal companion to whoever gets lucky enough to have him.
In the past year, Lang has carried the compassion, patience, and open mind that training guide dogs requires to a new continent and a new culture: Argentina.  In August 2017, Lang embarked on a journey to the Southern Hemisphere for eleven months through the Rotary Exchange Program. "I was there to learn the culture and the language," she explains, but she came back with so much more.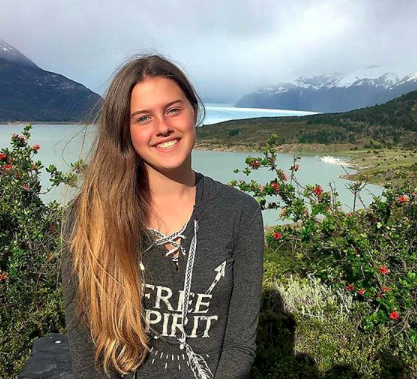 Lang stayed in a city called Luján, which is approximately 73 kilometers outside of Buenos Aires, the capital of Argentina.  Luján is best known for its large neo-gothic Basilica, built in honor of the Virgin of Luján, the patron saint of Argentina. "Luján," Lang explains, "is a little smaller than Reno and a little larger than Carson City, with a population of about 100,000.  Everyone knows each other."
Lang stayed with three different host families during the almost year-long time period she was there.  She remembers the first day especially well: "I showed up in a wheelchair because I had just torn my meniscus," she recalls.  "My host families were all so excited to see me, and the first thing they did was bring out a cake called Chocotorta, which is made of dulce de leche and cookies, and it was the most delicious thing I had ever tasted.  They gave me presents and I felt totally at home."
Her day-to-day life consisted of going to school at 7:30 in the morning and returning at about 4 in the afternoon.  One of her favorite classes at school was philosophy. She went out with friends on the weekends, travelled through Argentina, went to the park, went shopping, and hung out with her friends and family.  Lang recalls that visiting Patagonia was one of the highlights of her year. Patagonia, which Lang describes as "breathtaking," is the region encompassing the vast southernmost tip of South America, shared by Argentina and Chile, with the Andes Mountains as its dividing line. The Argentine side, according to The Guardian, features "arid steppes, grasslands and deserts, while the Chilean side has glacial fjords and temperate rainforest."  
Lang also vividly remembers the northern region of Argentina: "in one word, colorful."  She explains that everything, from clothes to furniture to blankets, was decorated ornately with patterns and bright pinks, blues, yellows, and oranges.  She even visited the literal end of the world, which is actually a resort town in Argentina called Ushuaia. It's located on the Tierra del Fuego archipelago, the southernmost tip of South America, nicknamed the "End of the World." The windswept town, perched on a steep hill, is surrounded by the Martial Mountains and the Beagle Channel. It is known as, according to The Guardian, the "gateway to Antarctica cruises and tours to nearby Isla Yécapasela," known as "Penguin Island" for its penguin colonies.  When asked if she missed home, Lang replied, "just once!"
Throughout her year fully immersed in Argentinian culture, Lang advanced from Spanish 2-level proficiency to almost perfect fluency.  Now that she has returned to Bishop Manogue, she is enrolled in Señor Harris's AP Spanish class, which she explains "is not very challenging, but requires a more Spain-like Spanish understanding, as opposed to Argentinian, which is more colloquial."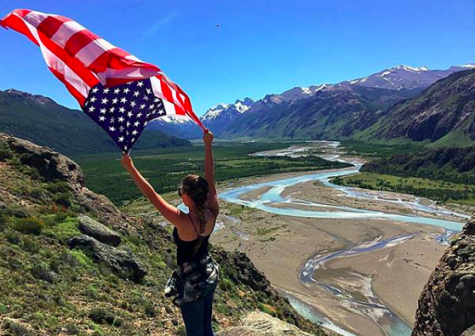 Lang remembers that kids in Luján called her "La Yankee," or "The American."  She was able to "find [her] place there," because "it was so accepting." She laughs that she was "famous" in the small town of Luján because everyone knew her as the foreign exchange student from the United States.
The Rotary Club offers international exchange scholarship programs that range from a few days to a year, in countries such as Australia, Italy, Brazil, Japan, and India.  Lang encourages Manogue students to get involved in foreign exchange because it "gives you a new worldview," she explains. "You will gain new perspective, and by talking with people from other countries you can see where they are coming from, and you are able to be exposed to new cultures and become more adaptable to unfamiliar situations."  
As for jumping into unfamiliar situations—it doesn't have to be training service dogs or moving to the opposite hemisphere for a year—such as simply making a new friend or going to college in an entirely new environment, Lang offers some key advice: "The things that scare you are the things that make you understand life and grow as person."