Big Strikes for Bishop Manogue Bowlers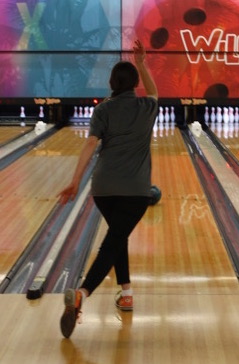 For many people, bowling is a fun activity for parties or family events, but there is a select few who bowl for competition. At Manogue, we have a bowling team of 28 students that go to the High Sierra Lanes and bowls for an hour and a half each Monday. Every week, there is a match against the local Washoe schools. Sammy Dulisse, a sophomore and first year on the bowling team said, "I like bowling because it is a fun sport that can be played by anyone and the team is super friendly and supportive."
When I joined the bowling team a year ago, I was expecting 2 or 3 people on the team who just as inexperienced as I am. However, when I walked in to the practice nervous, I saw 19 kids who were bowling scores of 150 or more. I saw people curving the bowling balls and the scoreboard filled with strikes. I was intimidated. Over those hour and thirty minutes, I met great people that helped me bowl from a score 64 to one of 113,.
The team is coached by Ms. Leblanc, the senior AP and honors English teacher. "I became the bowling coach four years ago when the previous coach came to me and asked if I would be interested. I was excited to be a part of a sport I had never worked with before and knew very little about." Ms. Leblanc likes that, "it is relaxed, free of drama, and you can see your progress in numbers." I enjoy seeing my bowlers improve and share their celebrations. Each time they bowl a strike or a spare or even if they miss it altogether, I am there to cheer them on and offer encouragement. It is wonderful to see bowlers grow in confidence as well as skill," said Ms. Leblanc.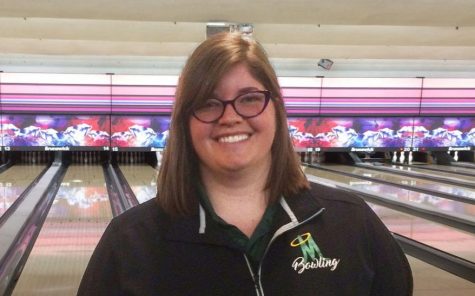 With competitive bowling comes a lot of technicality and each person has a personalized bowling form. They have to change their swing based on the conditions: how much oil is on the lane, how strong or soft you want the ball to curve, where you will stand to hit the pins, and how your shot will line up in comparison to the pin. Some bowlers even have to decide what ball they will use on the lane. The hardest thing to counter is the oil on the lane. If there is no oil, your ball will curve into the gutter halfway down the lane. If there is too much oil on the lane, your ball will not spin and hit the pocket. It is a balancing act that everyone has to learn to adjust to.
Another challenge that bowlers have to deal with is attitude. Dulisse said, "If I'm particularly having a bad day before bowling, I find myself bowling like a fish out of water. Despite this, the team takes me in with open arms." Another struggle is that if bowlers have a bad first game, it is very discouraging.
If you would like to join the bowling team, talk to Ms. Leblanc. You can get a varsity letter and it can also count as a semester of PE or weights for joining and participating.