Miner Men: Students Coming Together Shoulder to Shoulder
The Miner Men mentorship program had its pioneer year here at Manogue as Mr. Lazarek implemented a test run with 26 upperclassmen each paired with a freshman. Lazarek, after three years as a Bishop Manogue administrator, saw a significant need for male leadership in the school that would "empower the mentors and give the mentees direction in academics and life". His goal was to create "self-advocating" young men in both the upper and underclassmen, and while this year's program was small it has been very successful.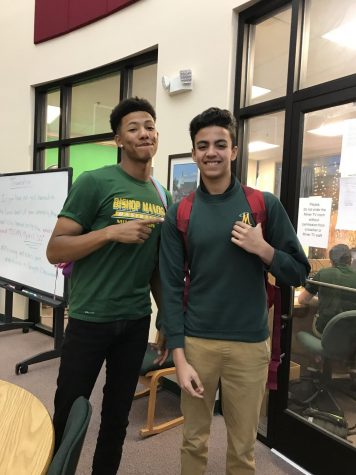 Lazarek handpicked each of his mentors, not based on a specific mold, but rather on their "character, maturity, and ability to offer something to someone else." After inviting specific upperclassmen to be Miner Men, they each had to complete an application process that demonstrated they were committed to the program by securing teacher recommendations as well as completing an interview with Lazarek. Then, he spent a month preparing the newly-minted Miner Men for their role as a mentor. He ensured they had the tools to complete the task ahead of them and taught them the ways of being a Miner Man which includes "always being present, taking care, being responsible, helpful, and a listener!" He taught them how to "come alongside" their mentee and be "shoulder to shoulder". Now that the program is up and going, the pairs, partnered at random, meet at least once a week on their own schedule to check in with each other. Lazarek is in constant communication with his mentors to make sure they are modeling the essence of a Miner Man and being a leader to their mentee.
Senior and Miner Man Revere Laird, has executed the mission of the program very well with his mentee, Parsa Sar-Sangi. In January when the program took off, Laird focused on coming in with "confidence" and tried his best to set Sar-Sangi at ease. He began guiding Sar-Sangi to take responsibility for himself both in his schoolwork and his actions within the classroom. First Laird facilitated this behavior and Sar-Sangi relied on him for guidance, but now he advocates for himself in these situations. They meet every week after school for about ten minutes and discuss everything from how his teachers to his friends. If Sar-Sangi is having any problems, Laird will go with him to talk with teachers and set a plan for him to stay on path at all times. All of the freshman mentees have come a long way in the past few months as the fruits of the mentorship program have begun to come to fruition. Teachers have noticed improvements in the underclassmen in their day to day interactions.
Laird has enjoyed the program because he was able to "branch off and meet new people" he would not have otherwise had the opportunity to connect with. Not only has he formed such a strong relationship with Sar-Sangi, but he has met all of his friends. The program allowed for seniors to connect with freshman in a way they never would have if it was not for Miner Men.
Next year, Lazarek hopes to have every freshman partnered with a mentor and has six juniors as a part of his initial group to carry it on next year. Lazarek believes that ultimately the Miner Men mentorship program will have a significant impact on school culture and will form empowered leaders in every situation in and out of Manogue's walls.