Christmas Traditions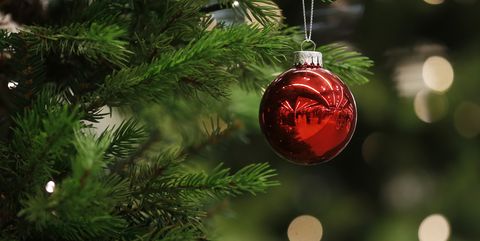 Christmas is fast approaching, and many people are either going to visit their family or are having their family visit them. Either way, some families have certain traditions that they have continuously passed down throughout the years. Let's take a look at what some people have as their family traditions around Christmastime.
Andreas Bahr:
What are your family's Christmas traditions?
The day of Christmas or the 24th?
Just around that time.
Christmas Eve, we have a large gathering with family and friends, we begin decorating a tree about a week before Christmas, on Christmas morning we have a breakfast of croissants and jam, open gifts and go to another family gathering.
What is your favorite part of your tradition?
The amount of time I get to spend with family because most live far away.
Do you go visit them or do they come to you?
On Christmas Eve they visit us and on Christmas Day we all go to my aunt's house.
And that is it.
Sean Sedlak:
What traditions does your family have?
When we were younger, our grandparents used to live back east, in New York, and so what we would do is my mom would go down a week earlier and try and help cook some meals, and then we would join them and we would have a small family reunion. But eventually our grandparents, and since they moved out with us, we started having Christmas at our house and my Aunt Theresa and my Uncle Dave, and then on another part, my Uncle Bob and Aunt Dean and their two children, Alex and Danny, would sometimes come out for Christmas. But sometimes it's a little more adhere with the Bob and Dean part of side with just my Aunt and Uncle.
So what was your favorite part about it?
I loved going back east because you'd get away from all the stress and the worry of everyday life here and it's just nice to be here in a safe space with my family and hang out with no papers due, not worrying about this or that, just to relax. It was also kind of neat because usually what we would do is my Uncle and Aunt back east, Mark and Donna, would renew their vows. So what we would do is we would have a five-course meal of mushroom soup first, and then they would renew their vows at the church and then come back. And then you would go to their house with their four different children that we called the K's, and we would have all these different meals and move around from table to table, having to sit by a different family member each time. It was a fun little activity to do to catch up with different family members.
What kind of family do you visit?
When we did it back east, my Grandma and Grandpa had nine children, so we had a really big family, and a lot of our family is still back east but we still have a few members out here on the west coast. But we would have at least three or four of my uncles and aunts, and a lot of them, usually all of them had at least one child, and one of which had five children, but we would have a lot of family out there. It would usually be maybe my Uncle Stephen and Aunt Nina, then my Uncle Mark and Aunt Donna with their four children, called the K's, my Uncle Johnny and Aunt Mariellen, and then their daughter Katie, who is now married and has a child, and a few more, but mostly those back east.
Savannah Villa:
What kinds of Christmas traditions does your family have?
We do treasure hunts for the presents and we open presents youngest to oldest.
What is your favorite part of this tradition?
Seeing the extended family all at one time.
Did you go to visit them, or did they come to you?
We go to visit them.
What kinds of family did ou visit?
Aunts, uncles, cousins, nieces, and nephews.
And that will be all.