Football is back! Miners put on a show!
Football is back. You might be thinking, but the super bowl was in February, and you would be correct. What I am talking about is Manogue football. The two-time northern regional champions are back and their first game was an explosion of the excitement we've been missing at Manogue. The Miner took on the Spanish Springs Cougars last Friday on the fifth of March.
Spanish Springs started strong with a 7-0 lead that was quickly diminished to a 14-7 lead for the Miners. Drew Scolari scored twice on the ground and connected with Cort Ballinger for two scores as the Miners took a 38-16 win on Friday at Manogue. Michael Schneider also scored for Manogue. Ballinger had eight catches for 104 yards and two scores. Scolari completed 15-of-22 passes for 261 yards. He also ran 13 times for 168 yards.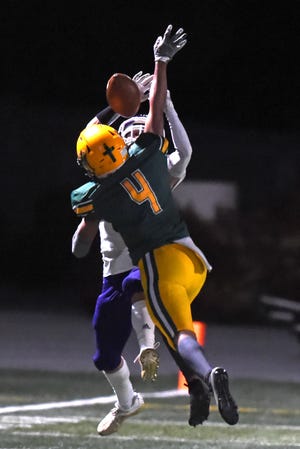 Number 4, Xavier DeLeon breaking up a pass intended for Cougars wide receiver.
Drew Scolari was the big star of the game with two long runs for scores. He had a 60-yard touchdown run in the second quarter and an 80 yard run on the first play of the second half. The Miners took the lead in the first quarter and never gave it up, easily soaring their way to their first victory of the season. Their next game is against Carson high, in Carson, on Friday, March 19th. After their first game, I am very confident that BMCHS will have an easy game next week, and a great season this year.