The 41st Annual Balloon Races And Everything You Need To Know!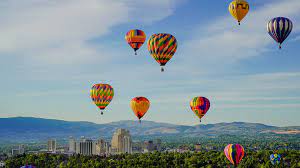 Families all over Reno Nevada can expect the return of the Annual Balloon Races this weekend, September 9-11th. This is the 41 year of the event and it's become a beloved tradition that's been happening for decades.
Event president Chris Dondero is excited to put the Balloons up once again, saying," The 65,000 people that come everyday are super excited as well, It's just such a great family event… Everyone looks forward to it every year." Even with the early start time of 3 am due to demand. The balloons take off at the usual 7 am, with Dawn Patrol proceeding them at 5am. With over 75 balloons each day you can expect the return of fan favorites like Darth Vader from the Star Wars series and some new characters like Tweety Bird and Yosemite Sam from the Looney Tunes Series.
If you can bear waking up early this is a great way to spend time with your family seeing a tradition that doesn't happen anywhere else. This is something that you shouldn't miss and will hopefully become a new tradition like it has with so many other families!