The Boys JV Basketball Team Beats the Damonte Mustangs in Overtime
The JV boys basketball team took home a win against Damonte Ranch this Thursday in a tense match that went into overtime in the Damonte gym.
The game started off with Damonte winning the tip off, but the first basket of the game went to Bishop Manogue. The Miners ended the first quarter down 13-17, including two 3 point shots from both Manogue and Damonte. At the end of the half, Damonte had gotten one more three point shot and the score was 22-27. Sophomore Daniel Horgan made two baskets and a free throw in the third quarter, but Manogue still trailed 35-37.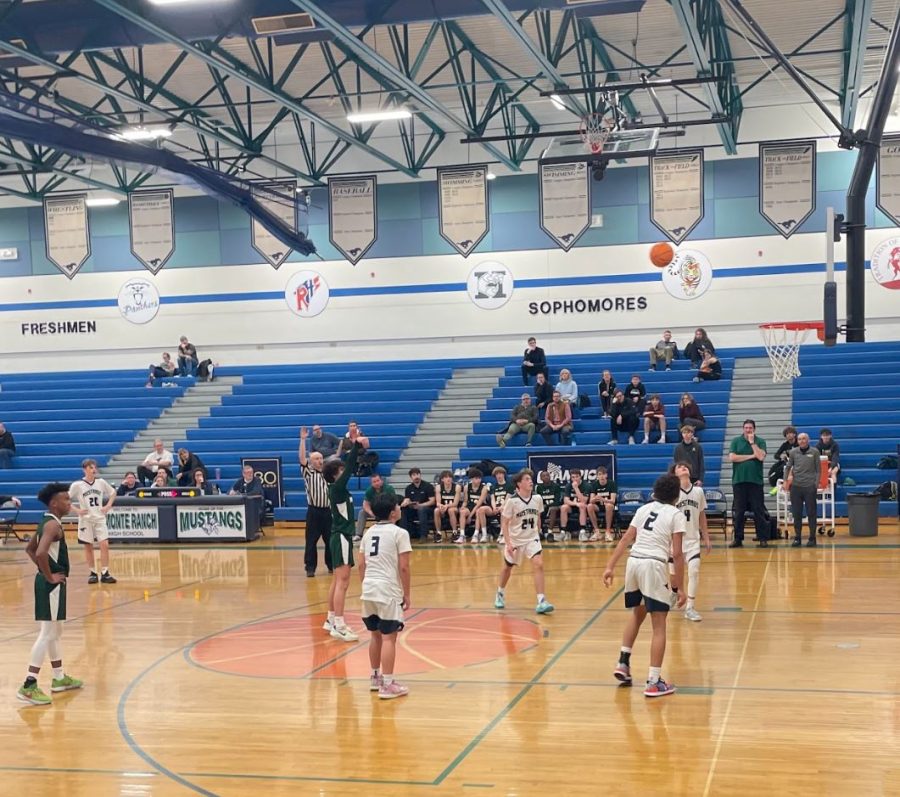 They finally tied it up with twelve seconds left in the fourth quarter. The audience waited with bated breath as Manogue regained possession of the ball with 1.9 seconds left in the fourth quarter, but the Miners were unable to break the tie, sending the game into a four minute overtime period. Damonte Ranch won the tip off once again at the beginning of overtime, and they scored the first point of the overtime with a free throw while two minutes and twenty three seconds remained on the clock. Manogue was able to respond with two baskets to put the Miners in the lead. Damonte called a timeout with 18.3 seconds left with Manogue up 58-57. The Miners seals their victory with two free throws to make the final score 60-57 at the end of overtime. Spectator Audrey Sheldon commented on the win saying, "I'm so glad we go to a school that's good at sports so we have something to cheer for."
The Manogue JV boys now have a 3 to 1 winning record against Damonte Ranch this season and a 18 to 3 record overall. The Miners will close out their season at Reed High School in Sparks this Monday February 6th at 3:30 PM with Manogue strongly favored to win their final game.