The Rivalry Between Manogue and Damonte Continues
The lady Miners took the win last night at home over the lady Mustangs. The Lady Miners lost to the Douglas Tigers last Tuesday in a close battle, 50-45, but came back strong defeating the Mustangs 54 to 17. The Lady Miners came out fast from start to finish. They didn't let their foot off the gas for one second. The lady Miners had a ton of fast breaks, which allowed them to score most of their points.
Top performers were Milasarai Tau with 20 points, 3 assists, and 4 rebounds, Fa'anaetaua Puloka with 12 points, 4 assists, and 2 rebounds, Chloe Pane with 4 points, 6 rebounds, and 4 assists, and Masyn Navarro with 9 points, 2 assists, and a block.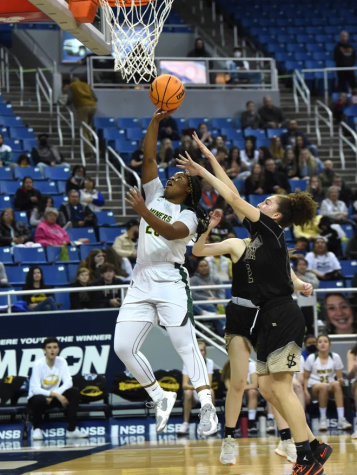 The Lady Miners had their top player, junior Jaileen Yarrow, out due to a meniscus tear. She is out for the rest of the season but I'm sure she will be back and ready to dominate her senior year.
In the first quarter, the Miner scored 14 points. In the second and third quarters, the Miners put up 28 points. Finally, in the fourth quarter, the Miners scored 15 points. The Lady Miners had a lot of energy throughout the entire game. Even the crowd was going crazy! " This game is Amazing," said Romel Collins. The Lady Miners have one more game until the playoffs begin. The Miners are on a mission to win regionals again and to head back to the state championship for back-to-back years.
The Lady Miners have lost three of their league games, one against the Douglas Tigers and two against the Reno Huskies. They lost five non-league games and stand at 14-8 so far. They have to go against the Reed Raiders next week on Wednesday, February 8th. The Lady Miners beat the Raiders 71 to 41 in their last appearance so this game should be a piece of cake. After that, they will try to survive the playoffs.