Meet the Miner: Will Cate
In this edition of Meet the Miner, I interviewed Will Cate. Will is a senior at Manogue and has attended Manogue since his sophomore year. Will enjoys playing lacrosse, hanging out with friends, skiing, exploring the outdoors, and rock climbing. Will is an adventurous character, during his interview he shared details about his life before, during, and after Manogue. We discussed lacrosse and how important it is to him.
Will came from Damonte Ranch High School before he came to Manogue. He describes his change of schooling to be "pretty tough on me". The anxiety of moving to a new school always takes quite a toll on anyone, but especially if it is not your choice. Will was asked what he would say to himself back then he said, "I would probably talk to my sophomore self and just reassure him. I was anxious, upset, and unsure about this whole environment." When asked about why he moved schools he describes his parent's decision. "They didn't like the way my old school handled covid and schooling at the time."
This put Will right on the threshold of a new school and new people. He felt unsure about this new school, but throughout his sophomore year and junior year he began to assimilate and enjoy his time here. Friends Ryder Gini, Senior, and Eoghan Gormley, Senior, recall Will opening up and seeing his growth throughout high school. "I really enjoyed playing lacrosse with Will, it was nice because we were from the same group kind of and I got to know him better. He's super talkative now which changed a lot throughout the years," says Ryder. "I think Will is just someone who is a fun personality, he didn't go out of his way sophomore year at first but he definitely became more extroverted as things went on," Eoghan recalls.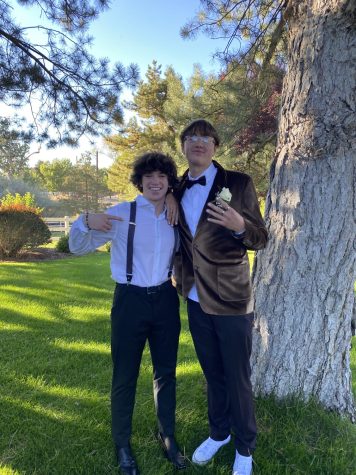 Lacrosse is a huge part of Will's life. When asked about plans for the future, such as college, Will stated that he will be attending Marymount University to play Division 3 lacrosse. Will talks about his everyday life and his routine, "I have lacrosse every day, either a game or practice then I work at Walmart on the weekends." He is a driven kid, with a passion to play the sport he loves. He recalls most of his favorite memories at Manogue are from games or practice. "I think when Dutch Wilson (senior at Manogue) couldn't do twenty-five pushups at practice and we all were laughing about it, was one of my favorite memories."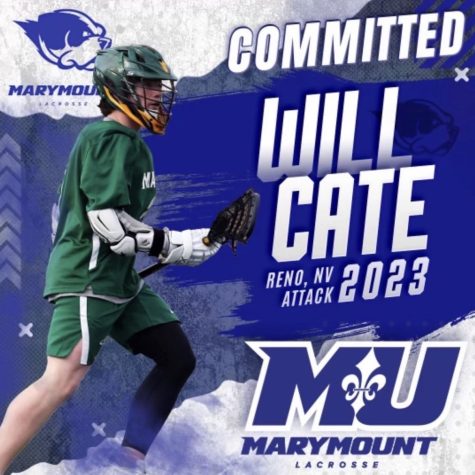 Will enjoys spending his free time either doing something for his brain or his body, like watching cartoons or rock climbing. Will loves Adventure Time, created by Pendelton Ward. Will recalls his favorite episodes and how much he enjoys the genius of the show. This silly yet strangely deep cartoon somewhat reflects Will. He has layers that began to open up during our interview. He describes a false preconception of how "everyone thinks I am super chill and I never get mad. That's not true, people think they can take advantage of me but I can get upset." Behind his extroverted demeanor is someone who genuinely cares about his friends and himself. He then goes on to describe rock climbing. He goes to Mesa Rim, a popular climbing space in the northern Nevada area. Will says, "I just in general like going outside and exploring what's out there."
Will Cate is a fun-loving kid, with a passion and drive for lacrosse and his future. As he looks back on his days at Manogue he thinks about how much he has grown and changed throughout the years. One thing that seems to never change, however, is his enjoyment of his team and his sport. Manogue coaches, friends, and teachers will remember him fondly. His exuberant personality with his funny jokes will never cease to make anyone smile even as he heads onto new beginnings at Marymount. We wish Will the best of luck playing lacrosse and he says to "Pull up to playoffs." As the Manogue boys Lacrosse team head in a potential 2nd seat at the playoffs this season.