Softball 2019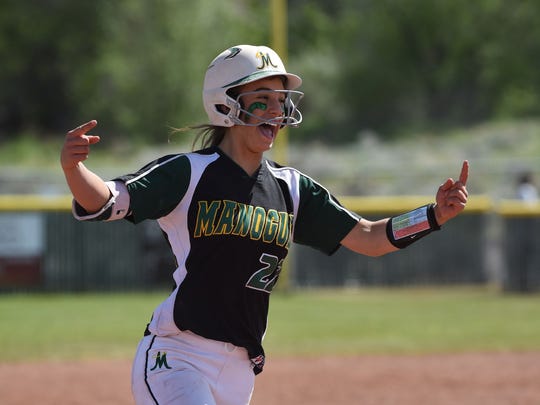 Manogue's softball team excelled in their 2018 season, carried by a strong group of Division One-bound seniors. The team so carried a 30-6 record, and in league had a record of 16-4. Their coach, David Hargrove, has been a part of the Manogue softball program for fifteen years now. The miners welcomed a new assistant coach this season, Jody Longaballa, who previously played softball at Creighton University. "She has made an impact on the tem by bringing in new coaching ideas," explains senior Hailey Merlino.

Their team ended the season ranked fourth in the state of Nevada. Senior Bradianne Glover, who plays as an outfielder, says that the team spent the season "more focused on going to state and truly achieving the goal, which is to win state."  The team will be losing seven seniors this year, one in which made the Nevada 2018 All-State Softball Team according to Nevada Preps. Last season Chelie Senini, outfielder, was titled as All-Northern Region first-team selection after leading Nevada with 72 runs and 75 hits. She batted .600 with four home runs, 10 doubles and two triples. Senini said that "when under pressure, Hargrove rallies the team and sets us forth with a new purpose." Currently four seniors have made a commitment to pursue their softball and academic career at the Division One level. Maggie Joseph will be spending her next four years playing Pac-12 softball at the University of California, Berkeley.  Bradianne Glover committed her sophomore year to play Pac-12 softball at Arizona State University. Hailey Merlino has committed to her hometown university, the University of Nevada, Reno, to continue her softball career. Lastly, Mikayla King will spend her next four years at Notre Dame de Namur.

A group of individuals amongst the team have been playing for over six years together, which has a immense impact on the way in which they perform as a team, leading to a successful season thus far. The softball program at Manogue has prepared them for college, not just academically, but also as an all around athlete and individual. The varsity teams chemistry is extremely strong and they have built a trust amongst them, which greatly gives them an advantage when on the field. Over the last four years Hargrove has pushed these seniors "to be the best they can be as a whole," according to Merlino. This year marks Hargrove's last year with the Miners Softball program, and the team is grateful for the leadership he has presented for them throughout his career at Manogue.