Varsity Boys Basketball Finishes The Season Strong With A Win Against Douglas
Two of the most recent league champions will be playing for the Regional North 5A boys basketball championship on Saturday. Number three seed Manogue advances to the state championships, after defeating the number two seed Reno, and Douglas beat the number one seed Spanish Springs. Since both teams won North 5A semifinals games on Thursday, Manogue and Douglas earned spots in next week's state tournament, but first is the Regional game at 6:30pm at Spanish Springs.
In Thursdays Semi final win over Reno, the Miners held their own, and fended off numerous shots from the Huskies, to take an 81-67 win. Renos Matt Ochs and Manogue's Luke Babbitt battle, during Thursday's playoff game at Reno High School on February 6th, 2023. In Thursday's semifinal win over Spanish Springs, the Tigers overwhelmed the The Cougars, to take a 52-43 win at Spanish Springs. "We played hard and fought every battle that we could." Douglas Coach Corey Thacker said. "We're proud of it. We played with a goal to win and achieved it; I couldn't be more proud of these boys and how hard they work."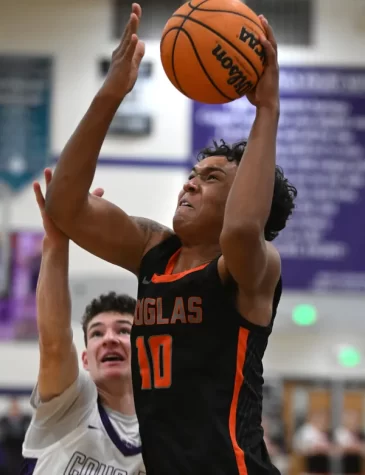 Manogue coach Luke Babbitt said he had 56 players show up for the basketball team tryouts at the start of the season. "These kids make my job so easy. They're having fun, and they're doing what they love." There are 6 seniors on the varsity team this season, and 26 players on the junior varsity and freshman teams, so the Manogue program is in good shape for the coming seasons. Babbitt said that he sees the bright future of the program's teams and can't wait to lead the varsity boys to another victory.