Manogue's Ski Team Wins Big at State
The ski team captained by Nick Fischer and Gigi Taylor are taking the slopes by storm!
This year, the ski team had an impressive season despite the light snow load. The girls' team snagged one 1st place and two 2nd place finishes with Gigi Taylor earning an individual 1st in slalom and 2nd in giant slalom. The boys also had a successful 2017-18 season. Nick Fischer and Taylor both finished in 1st place to take the State Giant Slalom title. Taylor is now the Overall Girls State Champion, a huge accomplishment! The teams both competed in slalom and giant slalom, advanced speed races, comprised of  fast turns around gates or poles. Specifically, the gates in giant slalom are more widely spaced and the course covers a longer distance than does slalom.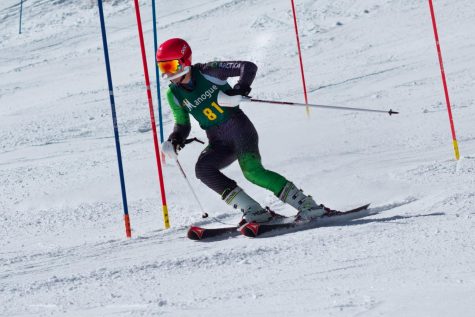 Lake Tahoe's snowpack is 20% of normal this season, and Nick Fischer states ironically, "Last year there was too much snow, and this year there isn't enough." The teams trained at Mt. Rose on Saturdays where there a training course set up. Luckily the resort produces fake snow to supplement the lack of precipitation this winter season. To stay in top condition, when the team is not on the hill, they participate in "dry land practices" which consist of running and agility, abs, weight lifting, and stretching. They begin the season with these activities and then move to training on the hill. Due to the nature of skiing, the team is not able to practice throughout the year, so Taylor states that ski team members, "play other sports such as soccer and lacrosse," to stay in shape.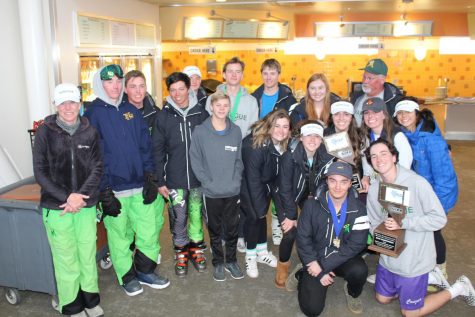 The team competed at Mt. Rose every Tuesday and Thursday against other Reno schools. The regular season has come to a close; and the team competed at the State competition, Feb. 13-14, where Katie Fischer, Trent Funke, Sophia Maclean, Nick Baier, Gabe Kenney and Sarah Brown finished in the top 10 in their respective races; and both teams finished 2nd overall. Congratulations to the Manogue Ski team for their very successful season and for achieving the big State win!