Cooking With Kalle
Christmas is a time for friends, family and -most importantly- food! One of the best ways to welcome in the holiday spirit begins with trying the oodles of tasty treats that define the season. The following 3 Christmas-inspired recipes are easy to follow and even easier to eat. Give them a try at home; they are sure to put your mind and your tummy in the proper festive mood.

*CHOCOLATE TOFFEE*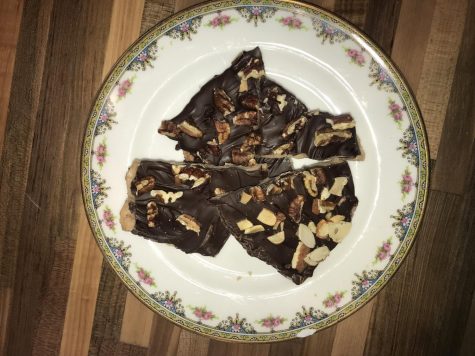 The first recipe is homemade Chocolate Toffee with optional toasted nuts. This toffee will be a favorite for anyone lucky enough to get a taste.  Guaranteed, everyone will ask for seconds of this mouth-watering goodness. It is the perfect blend of sweet, salty and buttery, with a slight hint of caramel.

http://www.delish.com/cooking/recipe-ideas/recipes/a50490/chocolate-toffee-recipe/  
*PRETZEL M&M HUGS*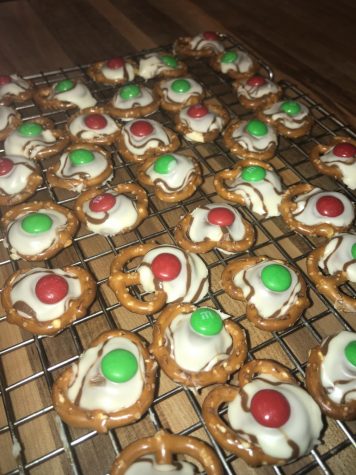 If you are looking for a quick treat, these Pretzel M&M Hugs are an excellent grab-and-go snack. With only three ingredients, they can be put together in as little as 15 minutes. I opted to use mini pretzels instead of the square ones, and they worked very well. For a more festive presentation, substitute Candy Cane Kisses in place of traditional Chocolate Hugs (as seen above). 
https://www.cookingclassy.com/pretzel-mm-hugs-christmas-style/  
*CANDY CANE BLOSSOMS*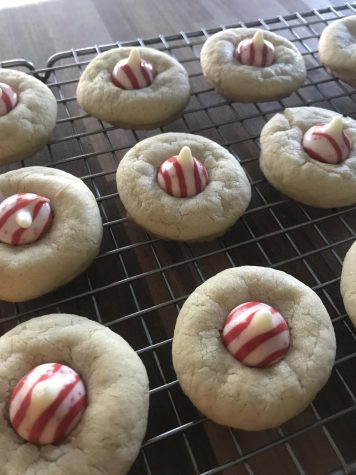 Sugar cookies are one of the most popular Christmas desserts, and are extremely easy to make. Sugar, flour, butter and an egg are almost all you need to make this holiday treat that tastes divine and also provides the perfect canvas for your artistic talents. With only a touch of icing or a sprinkle of colored sugar, this plain-Jane cookie transforms into captivating eye candy.  Candy Cane Blossoms are a perfect example of this and an eye-catching twist to the otherwise simple sugar cookie. Decorate them with red and green sugar, sprinkles, M &M's, the choices are endless. They will almost look too pretty to eat; but you will definitely bite right in. Check out the link below and see for yourself!

http://www.withsprinklesontop.net/?p=1498  
Pair any or all of these recipes with a cup of hot chocolate, wait for Santa's arrival and embrace the Christmas spirit!
"Cooking With Kalle" is a continuing column that features recipes prepared by Kalle Bailey.